12-Store Retail Portfolio Sale-Leaseback: Ollie's Bargain Outlets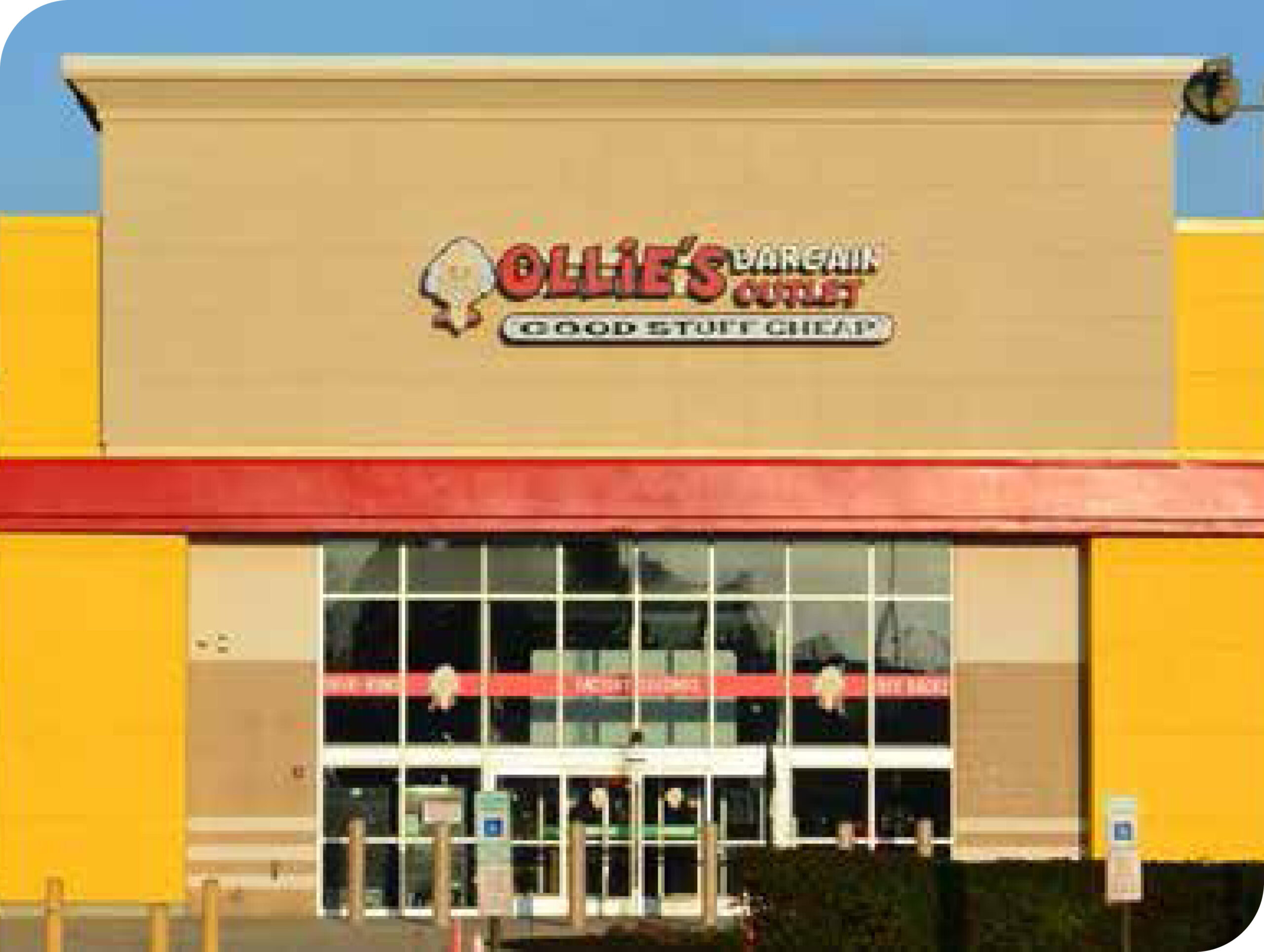 OVERVIEW
Central and Eastern U.S.
484,194 SF (12 Store Portfolio)
100% Occupancy
Built: Various
Sale Price: $42,669,000 ($88/SF)
6.85% In-Place Cap Rate
The Client
Our client, Ollie's Bargain Outlets, is a privately-held, fast-growing, extreme value retailer. Taking advantage of the bankruptcy of Toys"R"Us, Ollie's purchased 12 owned stores at bankruptcy auction, converted them to Ollie's and then engaged Lee & Associates to sell the portfolio as a long-term NNN sale leaseback. The client has a close relationship with our industrial team in Eastern Pennsylvania, and they engaged the Investment Services Team to lead the sale.
The Challenge
As a privately-held family retailer, Ollie's had traditionally not owned any real estate, instead preferring to lease Class B and C locations at value lease rates, often on a gross lease basis for a short lease term of 3-5 years. Our team analyzed the portfolio to show the value proposition of signing long-term leases on a net lease structure to facilitate higher net proceeds which could be used for the future growth of the company, while still keeping rental rates as low as possible to meet the mandate of the owners. As an additional challenge, the portfolio was a mix of assets located in multiple regions of the country and with varying degrees of attractiveness for buyers.
Our Approach
Lee & Associates was tasked with the direct marketing of the portfolio to a short list of approximately 25 institutional and REIT buyers of NNN lease retail portfolios. As a privately-held company with no debt and thus no credit ratings to fall back on, the credit of the tenant became paramount for investors. Our team underwrote the credit of the tenant using private financials and facilitated seller interviews with interested buyers to help buyers reach a comfortable level with the credit of Ollie's.
The Outcome
Lee & Associates executed a limited final and best round with three bidders before the seller selected a publicly traded retail REIT as the buyer. Our team facilitated the lease and PSA negotiations which took place over a period of weeks while the conversion of the Toys"R"Us buildings to Ollie's stores were completed. The transaction was concluded upon the open-ing of all 12 stores and lease commencement. The buyer is interested in acquiring more stores for the seller as they continue their highly successful growth path into the western U.S.