Dallas-Based Private Investment Firm Taps Lee & Associates Greenville-Spartanburg For Entry In The Upstate South Carolina Market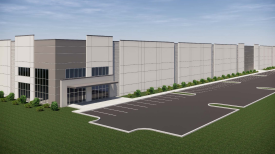 Greenville, S.C. — Texas-based Blue Road Investments is underway on a new 195,000 SF industrial
facility in southern Greenville County. Lee & Associates Greenville-Spartanburg represented the private investment firm in the sourcing and acquisition of the site, and has been tapped for the project leasing, as well. Located in southern Greenville County near the South Carolina Technology & Aviation Center, the speculative tilt-wall warehouse is being constructed by Harper General Contractors.
Randall Bentley, SIOR / CCIM, Chad Stepp and Kevin Bentley, SIOR handled the transaction for Lee & Associates Greenville-Spartanburg. Located at 464 Augusta Arbor Way, the property is the first acquisition in the Upstate region for Blue Road Investments, which focuses on acquiring and developing distribution facilities in growth oriented mid-sized markets.
According to Joe Zingaro, managing partner of Blue Road Investments, the Upstate market is particularly attractive because of the concentration of advanced manufacturing entities. "This region continues to attract top companies due to its strong labor pool and strategic location for distribution. We appreciate the work Lee & Associates did in sourcing the property, and we're actively looking to expand our holdings in Greenville."
The structure features 32' clear height, ESFR sprinklers and a 185' truck court. Due to deliver in summer of 2021, the property is less than five minutes from the Southern Connector, and sits adjacent to Lockheed Martin, Michelin, 3M and many of the area's most innovative OEMs.
"The Upstate region continues to attract the interest of private investment companies like Blue Road," noted Bentley. "Despite all the challenges of 2020, the Greenville-Spartanburg market has shown tremendous resilience and an expanding workforce that's well aligned with the opportunities ahead. For our team here at Lee & Associates, there's never been a more exciting time to be in the commercial real
estate business."