ELLEDGE WILLIS TRANSITIONS TO ASSOCIATE POSITION AT LEE & ASSOCIATES GREENVILLE / SPARTANBURG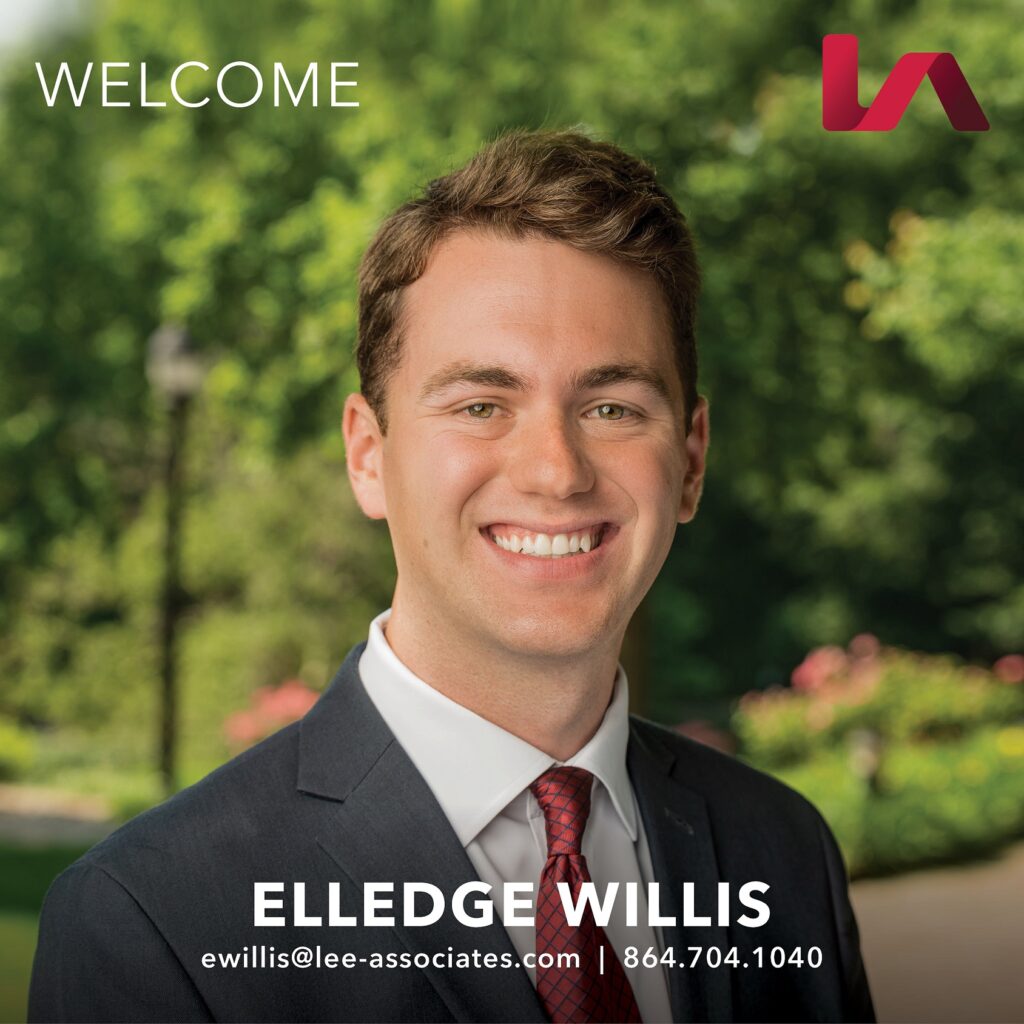 We are pleased to announce that Elledge Willis has transitioned into an Associate position with Lee & Associates Greenville / Spartanburg and has partnered with top producer and Principal, Jordan Skellie, SIOR. Together, their primary focus will be industrial real estate across upstate South Carolina and Western North Carolina.
Elledge is a familiar face around the office, having served as Marketing Manager since 2020. His extensive background in real estate marketing positions him well and will give his clients a unique perspective on what it takes to market a property.
"We are thrilled to have Elledge transition onto our brokerage team. He brings a wealth of knowledge from his background in real estate marketing. His unique marketing skillsets have already proven effective since his transition in June," says Principal, Jordan Skellie, SIOR.
As a Brokerage Associate with Lee & Associates Greenville / Spartanburg, Elledge specializes in industrial acquisitions, dispositions, development, and tenant representation. Partnered with Jordan Skellie, SIOR, they assist individuals and companies with their industrial real estate objectives. With over 5 years of real estate marketing experience, Elledge brings a unique perspective and deep insight into what it takes to market a property.
Prior to transitioning into commercial brokerage in June of 2022, Elledge joined Lee & Associates in 2019 as the Marketing Manager of the Greenville & Spartanburg offices. As Marketing Manager, he was responsible for developing, executing, and managing strategic marketing and public relation initiatives to promote the acquisition and disposition of commercial real estate properties. He worked closely with each broker to provide strategic planning, marketing collateral, sales and leasing packages, listing presentations, and proposal packets.
Elledge grew up in Fountain Inn, South Carolina, went to College at Anderson University and then moved to Atlanta after Graduation. After receiving a degree in Graphic Design and Marketing, he moved to Atlanta for a few years to pursue a career in real estate marketing with a large international company. In 2019, Elledge and his wife moved back to his hometown to pursue a career in commercial real estate with Lee & Associates. In their free time, they enjoy spending time with their family, friends and traveling to new places. His hobbies include golfing, carpentry, and cooking.
If you're interested in working with Elledge, you can contact him at ewillis@lee-associates.com.