Boise Accolades
Boise, Idaho is known for its beauty, simplicity, and friendly people. Most people across the country have heard of Boise and the surrounding Treasure Valley. Livability recently rated Boise as "The #1 Best Place to Live" in March, 2019. 
The city of Meridian, located next to Boise, has been rated "The Number One Place to Raise a Family" by Forbes for the last five years. This is just one example of the numerous accolades that the Boise MSA (Metropolitan Statistical Area) has received. There are simply too many good ratings and mentions of our city to list in this article. 
Boise MSA Growth
In the last five years there has been substantial growth in the Boise area.  We call this "The Population Boom." We do hear some complaining about traffic and congestion, but not much. Traffic is relatively good in comparison to other parts of the country. Boise is still a beautiful and clean city.
According to The Wall Street Journal, Boise has the 8th hottest job market among metro areas with less than a million people.  There are more jobs and demand than we have ever seen in this area. This is great news for the Commercial Real Estate market for both Buyers and Sellers. Buyers are acquiring properties and getting returns that they cannot achieve in other markets, and Seller's are getting top dollar for the disposition of their investments. It is a win/win for both sides.
Investing in Boise CRE
Many investors are seeking better returns than they can achieve in major markets, and moving to invest in tertiary markets, not only in the Boise area, but around the country. In the chart below you can see the sampling of some larger markets compared to the Boise MSA.
Boise MSA VS. Larger Markets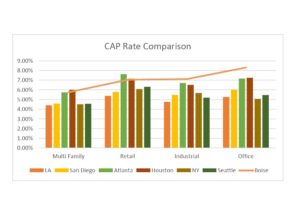 Contact us today if you have questions or would like to connect with a qualified CRE agent!