"Real estate Investing, even on a very small scale, remains a tried and true means of building an individual's cash flow and wealth." Robert Kiyosaki
Buying vs Leasing
As a full service commercial real estate brokerage, we come across commonly asked questions from business owners. One question that we often hear is "should I buy a property or lease one"? There are positives and negatives for both options. When thinking about purchasing or leasing options, there are many factors to consider. Hopefully the information below will be helpful when making a decision.
The first item to consider is location. How far are you traveling now to work? Is it feasible for your work place to be closer to home? Many business owners spend countless hours at work running their businesses and then have a long commute home. More time can be gained each day if your business is closer to where you live. It is important to consider how long you think you will be at the location, whether you plan to expand, and what your plan is to grow your business. Location may be the single most important decision in either leasing or buying. Where are your employees traveling from, what is their commute like?
Positives to Buying
 SBA financing may be a possibility
 Appreciation of the Asset
 Can be less expensive, long term than a lease
 Potential rental income
 Tax benefits
 Fixed Monthly Payment
Assets Appreciating
The real estate market can vary so, a long-term plan is important. Over time an acquisition can turn into an asset that appreciates. See the cost analysis example at the bottom of this post. A purchase can be less expensive than leasing, and can potentially be rolled into an SBA loan. Another benefit is that you can use depreciation as a tax benefit if you own your own building, you can also use capital expenditures as a tax write off. On the negative side your property could decline in value if there is a decline in the real estate market. As always you will need to consult a qualified accountant to see how you can save on taxes with any real estate purchase.
Negatives to Buying
 Can be more expensive up front
 Closing Costs and fees associated with Loan can be expensive
 Need to have on hand cash reserves
 Could be difficult to expand
 Property could decline in value
There are a few financial implications to consider when weighing the options of buying or leasing a property. If you are a new startup with little capital to invest, leasing for a few years would probably be your best option, however if you have an established business there are a few good financing options such as a small business administration loan (SBA). Most of the time these require less of a down payment than a traditional loan on a building acquisition. A traditional down payment requirement for the acquisition of commercial real estate may require up to 30% as well as closing costs, and due diligence fees which can include a property assessment, loan application approval, attorney, permit, inspection, environmental report fees and more.
Negatives vs Positives Buying a Building
There are some drawbacks to purchasing a building. It could potentially be more difficult to expand if you own your own building, especially if there is no available space for expansion. This is simply one example, and there are exceptions to all of the positive and negative points listed. Each option should be considered individually.
When you own real estate, you have control of the property and a fixed monthly payment. You will not need to worry about renegotiating your lease rates at the end of the term. No one will be telling you that you need to move out, as long as you pay your mortgage. You will have control of the property and you will not need to worry about renegotiating your lease rates at the end of the term. No one will be telling you that you need to move out, as long as you pay your mortgage. As a property owner you will be responsible for maintenance and repairs of the building. Over time this can add up, however with a proper budget and reserves these improvements can be planned.
Leasing
One major factor to consider when leasing is, how much cash you have on hand. Depending on what type of business you own  some of the tenant improvements can be quite expensive. You may not save quite as much as you think. On the other hand, there are times when Landlords will pay for either all or part of a tenant's improvements. This is always subject to the tenant and the specific agreement that the Landlord and tenant have negotiated. There is a potential that there will be only a little upfront cash investment. The good news is all of these items are negotiable and a good tenant rep broker can guide you through the process.
Positives to Leasing
Less expensive up front
Great for new and stable businesses alike
Depending on the lease type there can be less maintenance
Typically, the Landlord is responsible for repairs to the building, unless you have a triple net (NNN) lease where the tenant is responsible for maintenance as well as expenses
If your business is growing rapidly it is usually a good idea to lease a space as the term is shorter, and it is easier to move, and expand than when you own your own building. You will have rental increases over the term of the lease and they are not determined until the time the lease is be renewed.
There is also a potential for tax savings by deducting the entire amount of the lease payment from your taxes. A building purchase only allows for a deduction of the interest portion of your loan. Your lease will be listed as a liability on your balance sheet. This is something to consider, any lease is considered debt on a balance sheet.
Negatives to Leasing
There is no investment potential
No potential equity growth
The monthly payments can be higher than a purchase
You do not have control of the property
Example of financial differences on Buying vs Leasing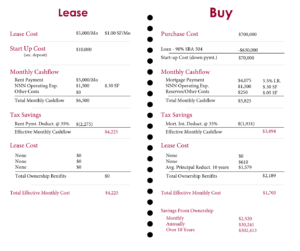 For example purposes only
As you can see there are many options to consider. Let us help you with your lease or purchase. Contact us today for a detailed sale or lease analysis to see which is the better option for you.