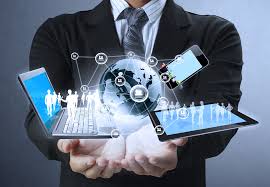 4 Tech Trends Shaping CRE – As the world becomes more connected, there are four huge technology trends that will affect just about everything we do. From the internet of things (IoT) to virtual reality (VR), new technologies are changing behavior and providing new ways to create, manage and solve. These same trends are also changing the CRE paradigm with potential to change the way commercial real estate is owned, bought, marketed, analyzed, planned, and occupied. New technologies will affect both the corporate and commercial real estate marketplace. In a recent GlobeSt.com article, VR, the IoT, along with AI (artificial intelligence) and Big Data applications in CRE, are highlighted. The article describes VR as a time-saving technology that is no longer just favored by gamers and software engineers.  Visualization of tangible assets for everything from underwriting an asset to workplace modeling add efficiency and savings to the CRE process. The IoT not only connects people to information, goods and services, and each other, but also connects systems and data, all on a portable mobile smart device. If you've ever used your phone to play Spotify through your home audio system or asked Google or Alexa to put milk and bread on your shopping list, you probably understand its application for CRE. Big Data and AI work together: Big Data applications can identify efficiencies and opportunities from massive amounts of information providing predictive guidance; AI takes that data, performs automated tasks formerly reserved for human intelligence, and provides computers the ability to sense, comprehend, take action, and most importantly, continually self-improve. These technologies will alter the way commercial space is planned and used, consider what cloud computing did to on site data rooms. At least robots will need some space to operate! If you don't believe these guys, check out what Warren Buffet says about AI.

Autonomous Cars and CRE – Just as technology is changing the industry, new habits created by these innovative technologies are changing CRE. Check out this article by Andrew Cheney, a leader in our Lee Corporate Solutions group on how autonomous cars, driving habits and transportation patterns can change the way office buildings plan, deliver, and utilize space.
Additionally, CoStar reports that a recent study, sponsored by Intel and prepared by Strategy Analytics, predicts the extra time autonomous vehicles will provide the general population will create a cognitive surplus resulting in productivity gains and related economic impact that will grow from $800 billion in 2035 to $7 trillion by 2050. While the study doesn't specifically address CRE impact, CoStar explores the potential impact of this technology on CRE and how this technology is beyond proof of concept and poised to become main stream within five years.