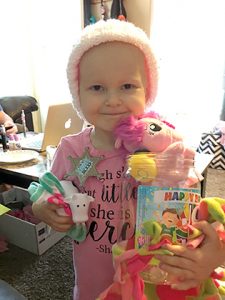 Lee & Associates Orange invites you to participate with us this holiday season as we collect toys used to fill JoyJars® Given to Kids Fighting Cancer.  JoyJars are 64oz plastic jars stuffed full of love and fun age appropriate toys for kids fighting cancer. Click here to see Jade's Story and the impact a JoyJar® makes.
Please consider helping with our Joy Drive this season by donating any of the items listed on the shopping list. Donations can be dropped off in our lobby. For more information, please contact Bridget LaTourette, (714) 564-7133. 

JoyJars® was started by the Jessie Rees Foundation | NEGU which was inspired by 12-year-old Jessie Joy Rees, better known as "Jessie". Jessie was a beautiful, athletic, smart and compassionate girl who fought two brain tumors (DIPG) from March 3, 2011 to January 5, 2012.
During her courageous fight, Jessie focused on spreading hope, joy and love to other kids fighting cancer. She knew having cancer made kids feel lonely and limited, and as a result, Jessie felt empowered to help ease these feelings for those children fighting. Jessie chose to share her message to NEGU® (Never Ever Give Up) with as many Courageous Kids fighting cancer as she could.  In addition, she stuffed and sent her JoyJars® to over 3,000 kids personally.  Jessie's JoyJars and her NEGU motto have both become global symbols of hope and help!
Since 2012, the Jessie Rees Foundation has been able to spread joy to reach over 165,000 Courageous Kids. While they are super thankful to reach so many kids, they can't stop, because cancer never does.  Research shows that every 3 minutes around the world a child is diagnosed with cancer.  That child has a name, a family and deserves our support to NEGU. Please help them!
Information about the Jess Rees Foundation can be found on Facebook, Twitter & Website.