APPETITE FOR CLASS B SPACE FUELS 2019 ABSORPTION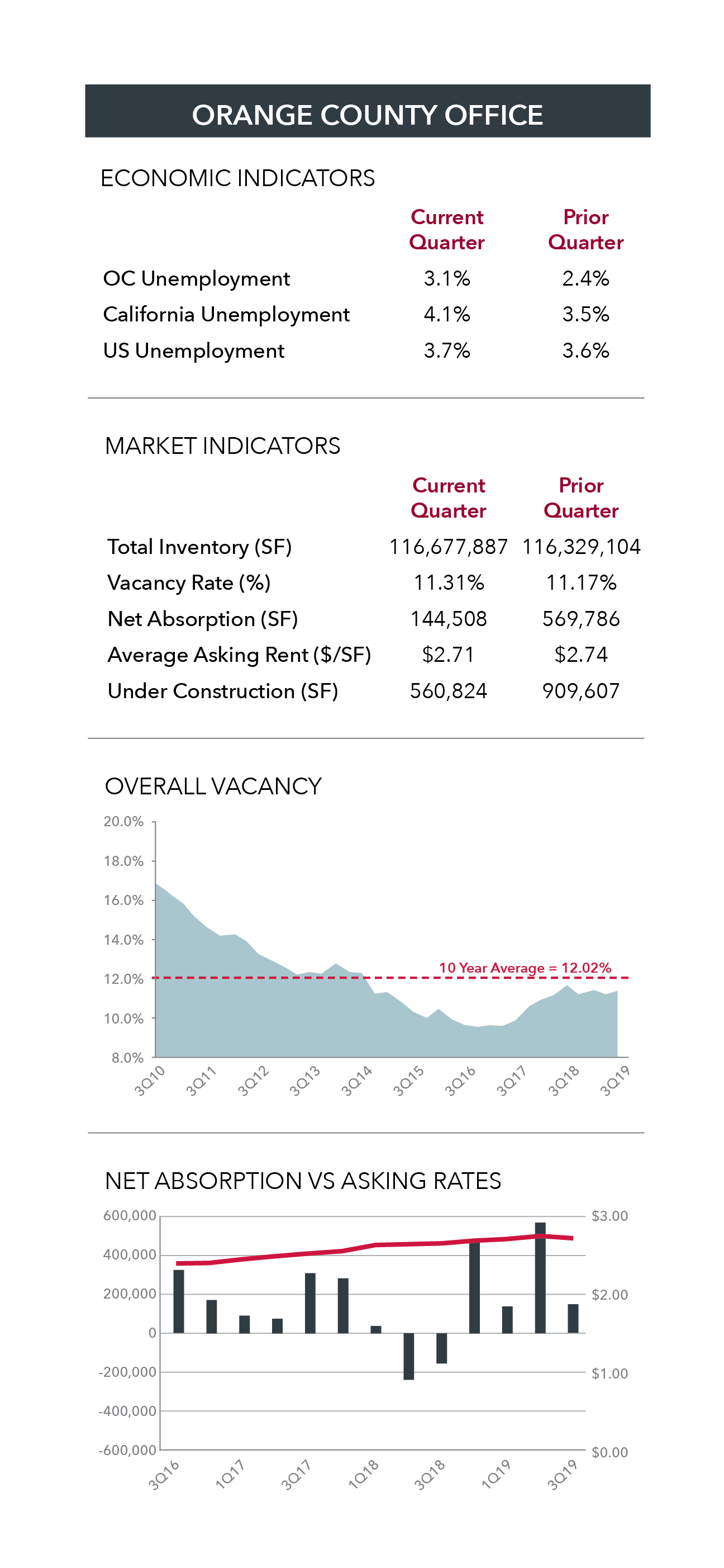 Demand for office space through the third quarter has surpassed annual net absorption totals for each of the last two years with Class B space around John Wayne Airport capturing the lion's share of the recent overall tenant growth.
Countywide net absorption in the third quarter hit 144,508 SF, bringing the total for the year to 849,431 SF. That exceeds the 756,460 SF of absorption posted in 2017 and the lackluster 107,482 SF of growth last year.
Meanwhile, the momentum pushing rent growth throughout the recovery lost some steam as average rents failed to notch a quarterly gain for the first time in six years. Direct asking lease rates for Class A space averaged $3.19 per SF, a decline of five cents per SF from Q2. Direct Class B rents averaged $2.64 per SF, down five cents from the first quarter.
There were 1,343 buildings totaling 116,677,887 SF in the third-quarter Lee & Associates survey. That includes an increase of three buildings totaling 348,743 SF that were delivered in the Airport market. Three buildings totaling 560,824 SF in the Airport and South County markets remained under construction.
Countywide, Class B space, which totals 62.1 million SF, represents 53.2% of the office inventory. Third-quarter Class B absorption totaled 134,124 SF. So far this year, second-tier space accounts for 602,028 SF of or 71% of net absorption overall. The vacancy rate for Class B space settled at 9%, down a full percentage point from Q1.
Third-quarter demand for Class A space totaled 23,799 SF. Year-to-date absorption of Class A space, which totals 49.6 million SF, has totaled 241,922 SF. At the end of Q3, vacant premium space hit 14.9%, an increase of 30 basis points from Q2.
Third-quarter net absorption in the Airport market – which includes 44.2 million SF of inventory and accounts for about 36% of the total office base – totaled 169,514 SF. The Airport market also has the county's highest vacancy rate, 13%.
The lowest vacancy rate, 6.5%, is in the 9.6-million-SF West County market that posted 51,898 SF of tenant growth.
The most negative absorption in Q3 occurred in the 22.6-million-SF Central County market, where tenants shed 79,755 SF of space. Net absorption in Central County has been in the red for seven of the last nine quarters and is negative 116,267 SF for the year. Central County's vacancy rate was 12.2% at the end of Q3.
Demand for space in South County also sputtered in Q3 as 51,129 SF of space went back on the market. The 26-million-SF market extends from the Irvine Spectrum to San Clemente. The vacancy rate ticked up 20 basis points to 12%.
Q3 Orange County Office Market Report Forecast
"While it may be too early to make a recessionary forecast, it's getting close," said Chapman University economist Jim Doti, reacting to slowing national job growth. "Given the storm clouds that are forming," he told the Orange County Business Journal, "I think it's time to batten down the hatches."
Q3 Orange County Office Market Report and Industrial Report