Lee & Associates Brokers $9,604,000 Investment Sale of Auto Palace in San Pedro, CA
November 9, 2021 (San Pedro, CA)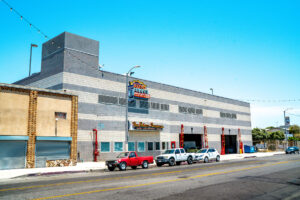 Lee & Associates, the largest broker-owned commercial real estate firm in North America, announced the successful close of a $9,604,000 investment sale of 460 W 5th St in San Pedro, California.
Jamie Harrison and Chris Manassero of Lee & Associates – Pasadena, represented both the seller, Flying Colors Group, LP and buyer, Palatine Capital Partners.
Auto Palace, located at 460 W 5th St San Pedro, CA, is a 112,500 square foot maximum security storage facility for valuable automobiles, recreational vehicles, motorcycles, or boats. The property was built in 1989 originally as a parking structure for the AT&T building across the street.
The seller, Flying Colors Group LP, purchased the building in 2003 with the intent to have it serve as an automobile, RV, and motorcycle storage facility. The seller was enticed to dispose of the property due to the current market conditions and ultimately transitioning their real estate out of California.
The property was exposed immediately to the marketplace generating a large volume of activity that ultimately produced several competing offers allowing the Seller to choose a buyer who we felt confident would close escrow.
Palatine Capital Partners were attracted to the building due to significant rental income with an overall historically high occupancy and the chance to capitalize on a strong and stable income stream.
Auto Palace is located between Los Angeles and Orange County and is less than a 10-minute drive to the intersection of the I-110 and I-405 freeways with traffic counts of nearly 1 million cars daily. San Pedro is undergoing major redevelopments including new retail, mixed use and residential development projects such as "550 Harborfront", a 375-unit Luxury apartment building and "The Vue" a 16-story high rise with over 300 units that sold for over $120 Million earlier this year, with an occupancy rate reported at 92% are clear indicators of the gentrification going on in the downtown and waterfront areas of San Pedro.
Also published at:
###
ABOUT LEE & ASSOCIATES
Lee & Associates – Pasadena is a full service commercial real estate company headquartered in Pasadena, CA. Our client-focused brokers specialize in office, retail, tenant advisory, multifamily, and investment sales. As the fastest-growing broker-owned firm in the nation, with more than 60 office locations in North America, we are uniquely qualified to support our clients' real estate needs in the local, national and international markets. For more information, visit lee-pasadena.com.
###