Lee & Associates Pasadena Hires Farah Teerling as Marketing Coordinator
December 20, 2021 – Pasadena, CA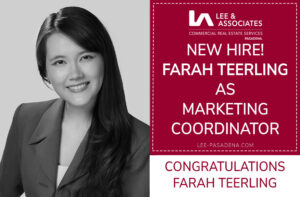 The Pasadena office of Lee & Associates has recently welcomed onboard a new Marketing Coordinator, Farah Teerling. Farah was hired as a temporary employee to assist the Office Administration department and demonstrated such great aptitude, talent and skill, that the Pasadena office jumped at the opportunity to hire her full-time.
Farah will replace Kimberly Barbata effective January 2022 and will spearhead the Marketing Department. "After five years of working at the Pasadena office, it's hard to say goodbye, but I know they are in good hands and will thrive under Farah's leadership," says Kimberly.
As a recent graduate of University of California, Riverside, her passion is graphic design and Farah will utilize those skills to enhance the creativity within this department.
Farah Teerling, Marketing Coordinator
Lee & Associates – Pasadena
626-240-2775