Lee & Associates – Pasadena Closes Two Structure Homes for PCC Students Experiencing House Insecurity or Homelessness in Pasadena
June 6, 2022 (Pasadena, CA)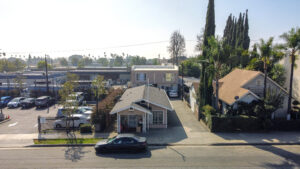 Two structures located at 2322 E. Foothill Boulevard in Pasadena will be completely refurbished and transformed into six (6) – 375 Square Foot studio apartment units to create housing for students attending Pasadena City College (PCC) who are transitioning out of foster care and experiencing housing insecurity or homelessness. Heritage Housing Partners (HHP) partnered with the City of Pasadena's Housing Department and Pasadena Community Foundation (PCF) to bring this property acquisition to reality. PCC will support the students with rent subsidies.
"These young people have experienced housing insecurity for so long," says Charles Loveman, the executive director of HHP. "It's going to be a game changer for them to have a key, lock their own door, and know their possessions and space are safe."
"It was a pleasure to be able to bring this opportunity to Bill Huang, Director of Housing for the City of Pasadena who then sought the assistance and collaboration of Charles Loveman. Charles stepped in bringing many partners together to make this opportunity a reality", said Colleen Carey, Founding Principal at Lee & Associates-Pasadena. Colleen represented Heritage Housing Partners as the Buyer. The seller of the property was represented by Mauricio Olaiz and Trevor Gleason, both Associates at Lee-Pasadena.
Also published at:
###
ABOUT LEE & ASSOCIATES
Lee & Associates – Pasadena is a full service commercial real estate company headquartered in Pasadena, CA. Our client-focused brokers specialize in office, retail, tenant advisory, multifamily, and investment sales. As the fastest-growing broker-owned firm in the nation, with more than 60 office locations in North America, we are uniquely qualified to support our clients' real estate needs in the local, national and international markets. For more information, visit lee-pasadena.com.
###