Lee & Associates Pasadena Promotes Mauricio Olaiz to Principal
June 22, 2022 – Pasadena, CA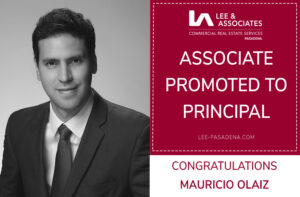 The Pasadena office of Lee & Associates has recently promoted Mauricio Olaiz from Associate to Principal! Mauricio started at the Lee Pasadena office in 2018 and has made many notable impressions with no less than four years of achievements at this office.
"Mauricio has demonstrated since his start with us the disposition and drive to achieve this status and earned more than required as of last week to qualify," President John Berger says. "We are all excited to welcome Mauricio as our newest partner as he exemplifies how well our model works to generate long term wealth through hard work and dedication, along with collaborating with several of our agents on many deals."
We are all excited to see what Mauricio will accomplish from here on out as a principal of this office. Congratulations Mauricio Olaiz!
Mauricio Olaiz, Principal
Lee & Associates – Pasadena
626-240-2773