Lee & Associates – Pasadena Sells Pasadena's Holly Street Livery Stable for $6,000,000
December 21, 2022 (Pasadena, CA)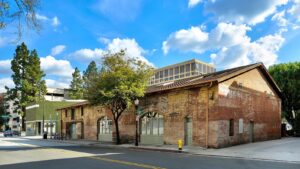 Lee & Associates – Pasadena, Inc. and DAUM Commercial Real Estate Services assisted the former owners in the sale of 110 East Holly Street, Pasadena, California, for $6 million ($907.44 per square foot) to an owner-user.
The 6,612-square-foot single tenant historic building was built in 1904 by John Cazaurang, one of the most prolific growers of hay and alfalfa in the San Gabriel Valley.  110 East Holly Street was once home to a 22-horse livery stable for the carriage business, Josephina's Restaurant and a Rose Parade construction shop to name a few. The property features a parking lot, outdoor patio and beautiful red brick construction visible from the inside and accentuated by the exceptionally tall ceiling height. The property was vacant at the time of closing.
Dan Bacani of Lee & Associates – Pasadena, Inc. and Nick Peukpiboon of DAUM Commercial Real Estate Services represented the seller. Lane Aronson and David Lao of Berkshire Hathaway Home Services represented the undisclosed buyer.
"Although I cannot say much about the actual intended use of the buyer per their request," Bacani commented. "I believe that there is a clear vision to restore this Pasadena landmark to its former glory while enhancing it with amenities on the inside in order to achieve a high level of modern functionality. The building's close proximity to City Hall, the Metro Gold Line at Memorial Park and to much of Old Pasadena represents a fantastic opportunity for both the City and the new owners."
###
ABOUT LEE & ASSOCIATES
Lee & Associates – Pasadena is a full service commercial real estate company headquartered in Pasadena, CA. Our client-focused brokers specialize in office, retail, tenant advisory, multifamily, and investment sales. As the fastest-growing broker-owned firm in the nation, with more than 60 office locations in North America, we are uniquely qualified to support our clients' real estate needs in the local, national and international markets. For more information, visit lee-pasadena.com.
###