Lee & Associates – Pasadena Closes an All-Cash Sale of a Two-Story Multi-Tenant Office Building in Diamond Bar, CA
March 7, 2022 (Diamond Bar, CA)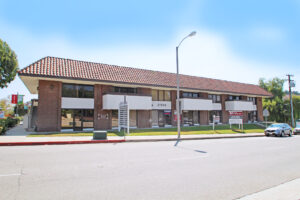 Lee & Associates – Pasadena, Inc. successfully completed an all-cash sale of 21308 Pathfinder Road in Diamond Bar, CA for $2,585,000. Jamie Harrison, Christopher Larimore and Vincent Molitor of Lee & Associates – Pasadena, Inc. represented the seller, Terrel Rinehart, and the Buyer, Level I Promotion.
Canyon View Plaza is an approximately 15,358 RSF two-story, multi-tenant office building with ample parking and solar panel carport roofs. Nestled near the San Gabriel Valley Mountains, the property enjoys prime freeway frontage facing southbound Orange (SF-57) freeway with easy travel between three Southern California counties (Los Angeles, Orange, and San Bernardino). Ideally situated in a dense, mature and affluent suburban market, Canyon View Plaza sits on 0.58 acres of land, is well-situated and has minimal landscaping making this a low maintenance property.
The product type and location of this building makes it a very attractive asset to many investors. "Canyon View Plaza is a well-known building in the Diamond Bar community offering both office and retail use," Christopher Larimore explains. "However, after each buyer completed their due diligence period, the level of vacancy and deferred maintenance called for a special investor who could see the long-term potential of this asset. As local market specialists, we knew that this was a great property that just needed to find the right buyer and we never gave up."
Ultimately, by utilizing the team's creative solutions skill set, this challenging property closed escrow with an all-cash offer. "The property had not transacted in over 40 years and was 80% vacant at the time of sale," recalls Jamie Harrison. "The property was equipped with Solar panels that were purchased with money borrowed by the Seller through the HERO's program and attached as a lien to the property making any type of financing difficult without a complete payoff. In addition, the seller had previously sold off the income to the cell tower in 2019 that was located on the roof. In the end, our marketing efforts lead us to a buyer that understood this product type and had the experience and patience to work though the hurdles in this transaction that lead to a closing late February."
The new owner has plans to renovate the interior, modernize the building, and continue to offer small to mid-size suites for both office and retail users in Diamond Bar.
Published Press Articles:
Real Estate Weekly
###
ABOUT LEE & ASSOCIATES
Lee & Associates – Pasadena is a full service commercial real estate company headquartered in Pasadena, CA. Our client-focused brokers specialize in office, retail, tenant advisory, multifamily, and investment sales. As the fastest-growing broker-owned firm in the nation, with more than 60 office locations in North America, we are uniquely qualified to support our clients' real estate needs in the local, national and international markets. For more information, visit lee-pasadena.com.
###