Lee & Associates – Pasadena Successfully Closes Two Transactions Over List Price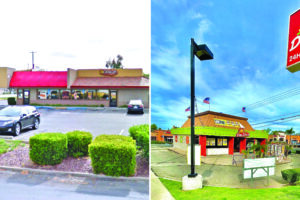 August 11, 2023 (Pasadena, CA) – Lee & Associates – Pasadena's Jamie Harrison and Chris Manassero, successfully closed the sale of 820 W. Kettleman Ln, Lodi and 18990 Van Buren Blvd., Riverside, representing the Seller in both transactions.
The Carl's Jr. restaurant on 820 W. Kettleman Lane has a long-term lease, which was signed in 1981, located in the city of Lodi. It is situated on a pad to a CVS anchored shopping center, with 150 feet of frontage along a major artery with over 24,000 CPD. The location is strategically positioned on the main thoroughfare in the city of Lodi near many other national name brands. The city of Lodi is currently undergoing a major economic development plan, which was enacted in 2014 and will guide the city in its decision making for the next 20 years.
The Del Taco restaurant on 18990 Van Buren Boulevard is a prime property with strong operating history located at a signalized hard corner intersection, with 39,528 CPD. The property has been operating as a Del Taco for over 40 years, which is a testament to its popularity and success. Additionally, the property is conveniently located within walking distance of Martin Luther King High School, which has over 3,000 students and can potentially bring in significant foot traffic. The lease is corporate guaranteed by Del Taco, LLC, providing added security for the buyer. This was a rare opportunity to acquire a fee simple ownership of a prime property with a strong tenant in place and excellent location.
###
ABOUT LEE & ASSOCIATES
Lee & Associates – Pasadena is a full service commercial real estate company headquartered in Pasadena, CA. Our client-focused brokers specialize in office, retail, tenant advisory, multifamily, and investment sales. As the fastest-growing broker-owned firm in the nation, with more than 60 office locations in North America, we are uniquely qualified to support our clients' real estate needs in the local, national and international markets. For more information, visit lee-pasadena.com.
###