Commercial Real Estate
Services
Lee & Associates Pennsylvania
Lee & Associates of Eastern Pennsylvania LLC specializes in providing world-class commercial brokerage and asset services to the industrial, office, land, and investment sectors of Eastern, Central and Western  Pennsylvania, including the Lehigh Valley, Northeastern PA, Philadelphia, I-81 corridor, and the Greater Pittsburgh Region. The Central PA and Suburban Philadelphia offices were established in 2015 as part of the Lee & Associates national network. Lee & Associates expanded their operations to Western Pennsylvania in 2023. Each of our nationwide Lee & Associates offices has strong local ownership combined with a powerful platform that continues to grow at a rapid pace.
As one of the top commercial real estate companies, we work with our clients to help them find properties where they can grow and flourish. Our firm's services include sales and leasing of commercial property as well as tenant representation. The sales team assists you through every stage of the buying, selling, or leasing transaction, with expert insights to help you maximize your returns. We can assist your company in developing and executing strategies to meet your occupancy and financial objectives.
Our reliable team embraces a collaborative approach, using all our talents to help our clients achieve their goals. We listen and we communicate, putting your needs first in every interaction. Learn more about why we stand out among industrial real estate companies.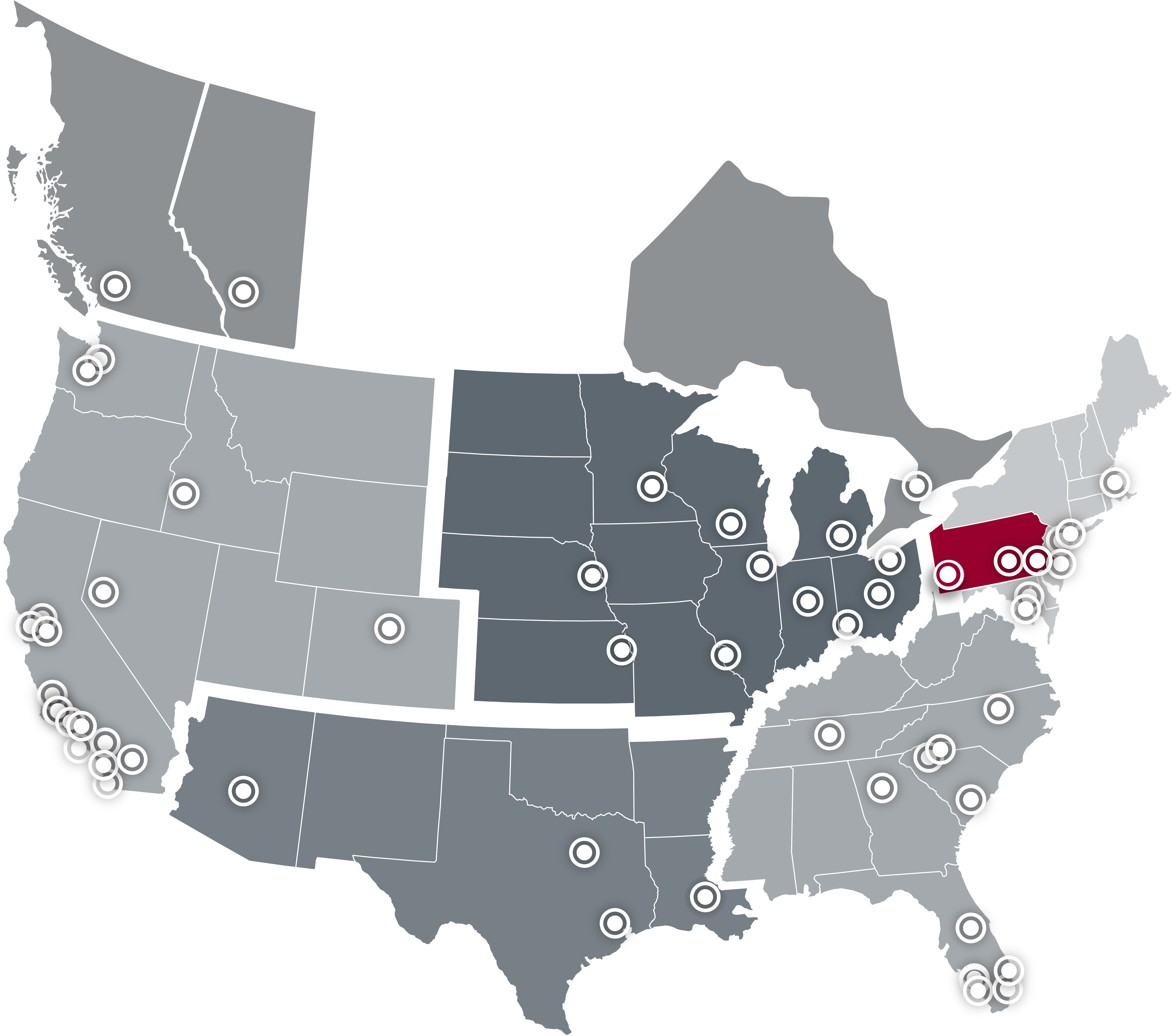 When you use the services of Lee & Associates of Eastern Pennsylvania LLC, you get the best of both worlds. We offer assistance at the local level, combined with guidance with an international scope.
We are the largest broker-owned firm in North America, and we have been providing seamless, consistent execution of real estate strategies since 1979. We offer value-driven, research-based, market-to-market services for our clients to improve their business opportunities and extend their services.
Our reputation and reach speak for themselves. We have a network to call on when we need guidance or input. Our offices extend:
Across the United States.
Into Canada.
Successful commercial real estate transactions depend on many things, including pricing, timing, and location. We understand how those factors can play out in Pennsylvania and beyond, and we use those insights to aid our clients. Our negotiation skills can help you get what you want from your commercial purchase while skipping anything you don't. See how the right commercial real estate deal can transform your company and elevate your goals.
Contact an Agent Today
Are you looking for commercial management companies near you? See how enlisting the services of Lee & Associates of Eastern Pennsylvania LLC can assist you.
Whether you need high-level insights that can help you target the right commercial real estate lease, or you desire specific information about the location you're considering, we can assist you. We have helped many organizations throughout the United States find the right match or implement solutions to make their jobs easier.
Let us focus on the details and identify solutions that align with your future objectives. Contact an agent today to discuss your real estate ambitions and how we can help realize them.
0
%
Increase in Brokered Sale/Lease Consideration over 5 Yrs
AFFILIATIONS & ORGANIZATIONS
Suburban Philadelphia
Office
220 W. Germantown Pike, Suite 200, Plymouth Meeting, PA 19462 USA
(610) 400.0499
Central Pennsylvania
Office
5053 Ritter Road, Mechanicsburg, PA 17055 USA
(717) 695.3840
Greater Pittsburgh
Office
11 Stanwix Street, Suite 2250, Pittsburgh, PA 15222 USA
(412) 339.2424