Philadelphia Industrial Real Estate Market shrugs off Covid-19 enroute to a strong quarter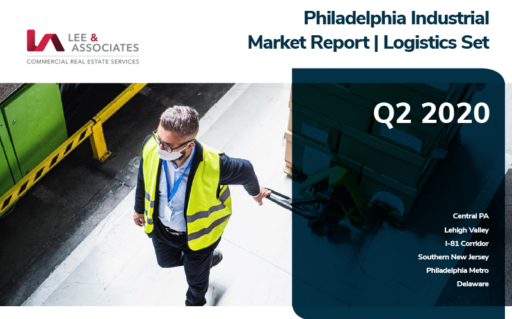 July, 2020 11:00 AM EST
Pennsylvania—Lee & Associates, a national full-service commercial real estate firm, released their Philadelphia Region Industrial Market Q2-2020 report covering warehouse and distribution properties in Eastern Pennsylvania, Southern New Jersey and Delaware.
According to Lee & Associates, the Philadelphia Region fared well despite the challenges of operating in a COVID environment, exhibiting strong net absorption and reduced vacancy levels despite 4.8 million square feet of new space deliveries. The majority of those deliveries took place in the Lehigh Valley.
In another measure of the market's strength, record Demand levels of 37.5 million square feet were charted.  Lee's Demand measurement is a forward-looking metric intended to report activity levels by tracking the progression of companies as they move from the onset of a potential requirement through its realization.  According to Connor Sanbower, Lee's Research lead, approximately 40% of the tracked activity was 'advanced' – meaning it has evolved to the point of proposal activity or a pending transaction.  While anything but certain, it's a solid indication that more good news is on the horizon for the region, especially with over 16 million square feet of new space poised for delivery by September 30, 2020.
"The next 3-6 months could present some challenges as we digest new space deliveries.  However, strong Demand, reduced new construction levels after October and strong fundamentals overall auger well for a strong finish to 2020", said Sanbower.
Central Pennsylvania, the largest of the Philadelphia sub-markets, was the strongest in terms of net absorption (2.2 million square feet) and Demand (17.8 million square feet).  With modest rolling construction levels, Central PA is expected to exhibit rising rents and Landlord favorable conditions through at least this time next year.
No statistics were available, but Sanbower pointed at a growing trend towards e-commerce as the biggest contributor to surging Demand levels, and the viability of the Philadelphia market overall.  "The channel shift from brick-and-mortar retail to fulfillment centers seems to have accelerated as a result of Covid-19.  The Philadelphia Region is well positioned relative to the US (and Canadian) population, and boasts significant infrastructure commitments by FedEx, UPS and others in facilities positioned to support the same-day, next-day and two-day delivery expectations of on-line customers".
"Despite the realities of the current situation, the second quarter was far stronger than anticipated.  We're more than encouraged by the prospects for Philadelphia moving forward", said Lee Principal John Van Buskirk.
For more information regarding the status of the market or questions regarding the data contact Connor Sanbower:
csanbower@lee-associates.com    (717) 918-8380 (direct)
# # #
About Lee & Associates of Eastern Pennsylvania
Lee & Associates of Eastern Pennsylvania began operations in May, 2015 under the leadership of Principals Brian Knowles, CCIM, SIOR, and John Van Buskirk, SIOR.  Currently consisting of fourteen Principals is committed to providing market-leading research and support while remaining grounded in exceptional client service. For the latest news from Lee & Associates of Eastern Pennsylvania, follow us on Facebook, LinkedIn, Instagram and Twitter or visit us on the web at https://www.lee-associates.com/pennsylvania
About Lee & Associates
Celebrating more than 40 years of leadership excellence in commercial real estate, Lee & Associates is the largest broker-owned firm in North America with locations across the U.S. and  Canada.  With more than 1,000 brokers nationwide, Lee & Associates provides a wide range of specialized commercial real estate services on a local, regional and national level. For the latest news from Lee & Associates, visit lee-associates.com or follow us on Facebook, LinkedIn and Twitter.
# # #