LEE & ASSOCIATES GROWS ROSTER, ADDS LEE FITTIPALDI, PRINCIPAL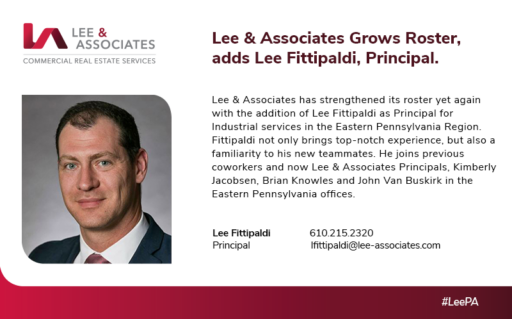 Pennsylvania—Lee & Associates, a national full-service commercial real estate firm, adds strategic partner to the firm.
Lee & Associates has strengthened its roster yet again with the addition of Lee Fittipaldi as Principal for Industrial services in the Eastern Pennsylvania Region. Fittipaldi not only brings top-notch experience, but also a familiarity to his new teammates. He joins previous coworkers and now Lee & Associates Principals, Kimberly Jacobsen, Brian Knowles and John Van Buskirk in the Eastern Pennsylvania offices. When speaking about their previous success together, Brian Knowles said, welcoming Fittipaldi along with last month's addition, Kimberly Jacobsen, to the Lee team is "a great fit for us."
"The addition of Fittipaldi is another step in the strategic growth of our presence in the Region," said Knowles. "We are truly a team at Lee & Associates, and you can sense that. Our platform draws in creative and entrepreneurial agents that want to team up together. We thrive off of the team mentality, we all want to win for our clients! Lee Fittipaldi is a welcomed addition to and we're ready to get to work with him."
Lee provides strategic insight and transactional advisory services for both tenant and agency clients with a focus on industrial assets. Lee has been involved in lease or sale transactions totaling more than 10 million square feet and in excess of 1,100 acres of land. Lee specializes in the underwriting and analysis of development sites and assets on behalf of clients. He has structured building sale, development site sale, tenant & agency representation, build-to-suit, redevelopment, and expansion & consolidation transactions throughout his career.
# # #
About Lee & Associates of Eastern Pennsylvania
Lee & Associates of Eastern Pennsylvania began operations in May 2015 under the leadership of Principals Brian Knowles, CCIM, SIOR, and John Van Buskirk, SIOR.  Long recognized individually as national leaders in the industrial real estate business, they have chosen to take their over 45 years of combined real estate experience in a new direction – as broker-owners of this new initiative.  Lee & Associates of Eastern Pennsylvania is committed to providing market-leading research and support while remaining grounded in exceptional client service. For the latest news from Lee & Associates of Eastern Pennsylvania, follow us on Facebook, LinkedIn, Instagram and Twitter or visit us on the web at http://www.lee-associates.com/pennsylvania
About Lee & Associates
Celebrating more than 40 years of leadership excellence in commercial real estate, Lee & Associates is the largest broker-owned firm in North America with locations across the U.S. and  Canada including California, Colorado, Arizona, Florida, Georgia, Idaho, Illinois, Indiana, Kansas, Maryland, Michigan, Missouri, Nevada, New Jersey, New York, North Carolina, Ohio, Pennsylvania, South Carolina, Texas, Toronto, Ontario, Vancouver BC and Wisconsin. With more than 800 brokers nationwide, Lee & Associates provides a wide range of specialized commercial real estate services on a local, regional and national level. For the latest news from Lee & Associates, visit lee-associates.com or follow us on Facebook, LinkedIn and Twitter.
# # #