Lee & Associates Continues Fast-Paced Growth, Adding Three Principals This Summer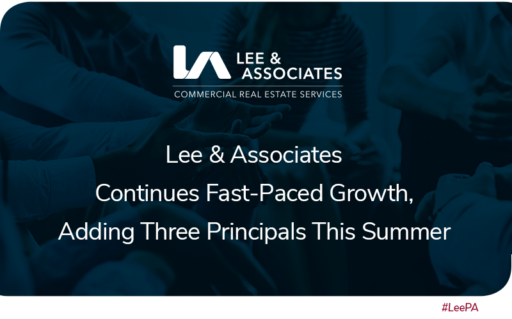 Eastern Pennsylvania firm has doubled in size over last 18 months, adding 15 agents to its roster and expanding both capital markets and asset services team
PENNSYLVANIA — Lee & Associates, a national full-service commercial real estate firm, continues to attract veteran agents and expand its team in the Eastern Pennsylvania Region as part of an ongoing strategic growth initiative.
Over the last two months, Lee & Associates of Eastern Pennsylvania LLC has added three new Principals – Lee Fittipaldi, Kimberly Jacobsen and Tony Rod – who specialize in industrial real estate services. Lee & Associates has experienced a steady surge in regional team growth, doubling in size by hiring 15 agents since the beginning of 2019.
"We continue to attract leading industry professionals who have an entrepreneurial mindset and are looking for a team environment to take the next steps in their career," said Joel Kreider, Principal, who is also the Vice President of the Philadelphia Chapter of SIOR. "Over the last year we've successfully implemented and grown our capital markets and asset services teams. As we see greater opportunities to expand our regional footprint and add new service lines to best serve our clients, we hope to recruit additional industry leaders."
Fittipaldi and Jacobsen, former colleagues of Lee & Associates Principals Brian Knowles and John Van Buskirk, have joined the brokerage team in the firm's Plymouth Meeting office. Over the last decade, Fittipaldi has been involved in lease or sale transactions totaling more than 10 million square feet and in excess of 1,100 acres of land. Jacobsen has more than 25 years of industry experience covering brokerage, development, management and marketing.
Lee & Associates added Rod in July, bolstering the team's expertise in landlord and tenant representation in Southern New Jersey and Philadelphia. Over the last two decades, Rod has completed more than 13 million square feet of industrial transactions for his clients.
"We've successfully leveraged industry relationships and added Principals with decades of brokerage experience, like Gary Nalbandian and Bradley Swidler, to help fuel our growth. These veterans are driving real estate transactions and providing opportunities for our firm to attract and mentor younger professionals," Kreider said.
The Eastern Pennsylvania offices now have over 30 professionals that serve clients in Central and Eastern Pennsylvania, Southern New Jersey, and the state of Delaware.
"The addition of the Pennsylvania office was an important piece of our East Coast expansion efforts in 2015. This team of regional leaders continues to leverage new opportunities and demonstrate market expertise that is not only driving transaction and service growth, but positioning the firm for long-term success," said Jeffrey Rinkov, CEO of Lee & Associates.
# # #
About Lee & Associates of Eastern Pennsylvania
Lee & Associates of Eastern Pennsylvania began operations in May 2015 under the leadership of Principals Brian Knowles, CCIM, SIOR, and John Van Buskirk, SIOR.  Long recognized individually as national leaders in the industrial real estate business, they have chosen to take their over 45 years of combined real estate experience in a new direction – as broker-owners of this new initiative.  Lee & Associates of Eastern Pennsylvania is committed to providing market-leading research and support while remaining grounded in exceptional client service. For the latest news from Lee & Associates of Eastern Pennsylvania, follow us on Facebook, LinkedIn, Instagram and Twitter or visit us on the web at http://www.lee-associates.com/pennsylvania 
About Lee & Associates
Lee & Associates offers an array of real estate services tailored to meet the needs of the company's clients, including commercial real estate brokerage, integrated services, and construction services. Established in 1979, Lee & Associates is now an international firm with offices throughout the United States and Canada. Our professionals regularly collaborate to make sure they are providing their clients with the most advanced, up-to-date market technology and information. For the latest news from Lee & Associates, visit lee-associates.com or follow us on Facebook, LinkedIn, Twitter and Link, our company blog.
# # #