Lee & Associates of Eastern Pennsylvania Brokers Sale of Industrial Outdoor Storage Site in Sewell, NJ for $5.64M
Site, immediately adjacent to NJ Route 55 and south of Philadelphia, contains a 36,000 square foot warehouse and six acres suitable for outdoor storage
Lee & Associates of Eastern Pennsylvania, a fully-integrated commercial real estate brokerage and management firm, has brokered the sale of 2020 Delsea Drive, a 13-acre industrial property located approximately 15 miles south of Philadelphia, for $5.64 million. Tony Rod, SIOR, Principal, and Andrew Landolfi, Associate, of Lee & Associates of Eastern Pennsylvania, represented the seller, Pardo Properties LLC. Joe Riggs, Executive Vice President of NAI Mertz, represented the buyer, Criterion Group LLC.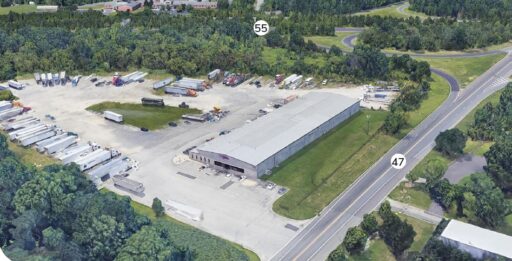 The property features a 36,000 square foot pre-engineered, clear span warehouse with ceiling heights ranging from 16 to 21 feet, one loading dock, two drive-in doors, and is fully occupied by FleetPride, Inc. It includes 1,500 square feet of office and six acres of land suitable for outdoor storage and vehicle parking, both of which were vacant at the time of sale. 2020 Delsea Drive is immediately adjacent to NJ Route 55 and within 12 miles of NJ Route 42, US Route 322, Interstate 295 and the New Jersey Turnpike. The Port of Philadelphia is approximately 18 miles from the site and the Port of Wilmington is approximately 30 miles away. Both the FedEx Ground facility in Barrington, New Jersey and the UPS logistics site in Lawnside, New Jersey are 10 miles away.
Industrial Outdoor Storage (IOS) sites are typically used by logistics companies that need space to stage or provide short-term storage for products prior to shipping them to the next destination. The requirement is particularly acute in port city locations and has been described as "mission-critical" by supply chain and logistics professionals. Sites typically range in size from 5 to 20 acres.
"This category has emerged as a highly sought-after asset type among both private and institutional investors and 2020 Delsea represents a compelling addition to the Criterion Group portfolio," said Landolfi. "Both Philadelphia and Wilmington are major port cities and a destination for roll-on/roll-off cargo, particularly automobiles, trucks, and heavy equipment cargo. Many of the infill light industrial properties in this sub-market do not have excess land for outdoor storage, so there is a heightened demand and 2020 Delsea Drive can help fill this ongoing need," added Rod.