Brian Knowles, CCIM, SIOR Named to National Board at Lee & Associates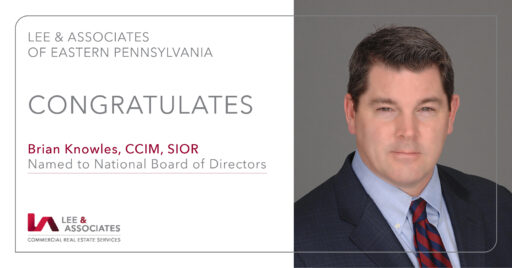 Pennsylvania – January 25, 2022 - Lee & Associates, a leader in commercial real estate services throughout North America, appoints Pennsylvania broker to its national Board of Directors. Brian Knowles, CCIM, SIOR, will be one of nine members to serve the company in 2022-2023.
The Board works hand-in-hand with the CEO and corporate team to initiate, execute, and maintain policies that best serve the company and its clients. The 30-year industry veteran said, "he was honored to serve for his clients and peers and looks forward to broadening initiatives for the benefit of each."
The company has more than 1,300 brokers and offices throughout the US and Canada. Knowles is a founding Principal of Lee & Associates of Eastern Pennsylvania LLC, the firm's first office in the Commonwealth of Pennsylvania. Since opening in Central PA in 2015, the Eastern Pennsylvania team has expanded to Suburban Philadelphia. Goals for 2022 include continued national and local expansion.
"I am extremely pleased and proud to have Brian Knowles join the Board of Directors. Brian brings a wealth of knowledge and experience from his long and successful industrial brokerage career. Brian and his partners have provided great leadership in Pennsylvania, building a remarkably strong presence serving many asset classes. I look forward to working with Brian on the Board and the continuation of the positive impact he has made on our organization," stated CEO Jeffery Rinkov, SIOR.
In addition to Knowles, the nine-member Board of Directors also includes: John Sharpe, SIOR, CCIM, LEED-AP (Illinois), Peter Braus (NYC, NY), Jessica Mauser (Pleasanton, CA), John Rickert, CCIM (Cincinnati, OH), Allan Riorda, SIOR (Maryland), Mike Spears, SIOR, CCIM (Houston, TX), Todd Spencer, SIOR, CCIM (Columbus, OH), and Aleks Trifunovic, SIOR (West LA, CA).