Lee & Associates Brokers $9.25M Deal with PNK Group for 166 Acres at Great Stream Commons for their US Portfolio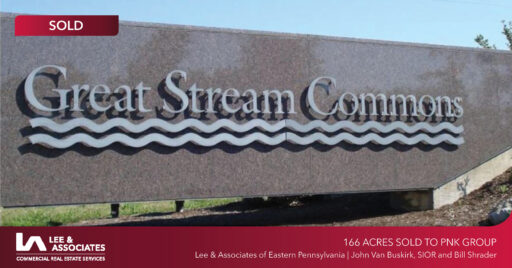 January 24, 2022
Pennsylvania—Lee & Associates, a national full-service commercial real estate firm has orchestrated the sale of approximately 166 acres to international developer and owner, PNK Group. Principals; John Van Buskirk, SIOR, and Bill Shrader represented Union County in their fourth deal since taking on the listing. The deal will potentially add the park's first speculative building in hopes of attracting a tenant in need of turn-key space. Following receipt of entitlements, PNK will have approximately 1.5M SF available for build-to-suit or speculative development across 5 buildings.
Great Stream Commons is a community-owned and sponsored Industrial Park that offers KOZ tax incentives and rail service to its southern sites. The park is along Route 15, minutes from Interstate 80, and is located within one day's drive of 40% of the U.S. population and 60% of the Canadian population. Shawn McLaughlin, Union County Director of Planning and Economic Development said, "this is a win / win / win for the County, PNK Group, and Economic Development in the Region".
In addition to PNK, Mericle Commercial Real Estate, Moran Industries Realty, and JJ Powell (Snappy's) have purchased lots in the park from Union County. Bimbo Bakeries is the first tenant to call Great Stream Commons home. Additionally, River Run Foods has approximately 40 acres under contract and is in the process of permitting a new facility for Great Stream Commons.
"The popularity of e-commerce and the growing need for Last-mile space has accelerated as a result of the pandemic," said Van Buskirk. "Great Stream Commons has the potential to be the last stop for parcel shipping to many northeast clients and customers."
Approximately 48 acres remain for sale at Great Stream Commons.
###
About PNK Group
PNK Group is an international industrial real estate developer. The group of companies was founded in 2004. PNK continues to increase the output of warehouse assets built across Europe and the United States. With a portfolio of 39 industrial parks, annual output increased to 10+ million square feet.
About Lee & Associates
Lee & Associates offers an array of real estate services tailored to meet the needs of the company's clients, including commercial real estate brokerage, integrated services, and construction services. Established in 1979, Lee & Associates is now an international firm with offices throughout the United States and Canada. The local Pennsylvania offices were founded in 2015 and have grown to a 32-person enterprise with 17 Principals. Our professionals regularly collaborate to make sure they are providing their clients with the most advanced, up-to-date market technology and information. For the latest news from Lee & Associates of Eastern Pennsylvania, follow us on LinkedIn, Twitter, Instagram, Facebook and Link, our company blog or visit us on the web at
https://www.lee-associates.com/pennsylvania/
# # #