Lee & Associates Adds Associate to Eastern Pennsylvania Team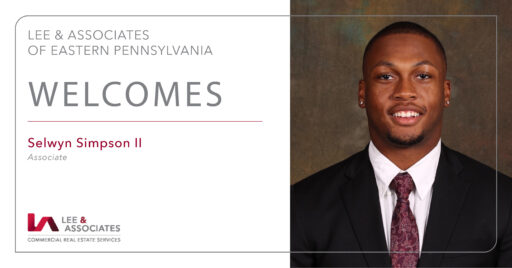 Pennsylvania – February 4, 2022 - – Lee & Associates of Eastern Pennsylvania, a fully-integrated commercial real estate brokerage and management firm, has announced Selwyn Simpson II as the newest associate of the Industrial brokerage team.
Selwyn joins Lee & Associates from Lafayette College. In his new role, his primary focus will be agent leasing, tenant representation, and land acquisition in the key submarkets across Pennsylvania, most notably the Lehigh Valley, Northeast, PA, and the Philadelphia Metro areas.
Selwyn holds a Bachelor of Arts in Economics and a Minor in Anthropology and Sociology from Lafayette College. He is a former member and captain of the Lafayette College football team and a member of the Brothers of Lafayette organization.
"Selwyn is a former college athlete, team captain, and born competitor – it's evident in his work ethic," said Brian Knowles, Principal, and Co-founder of Lee & Associates of Eastern Pennsylvania. "He possesses the exact type of drive you need to be successful in this industry. Selwyn has a bright future ahead of him", said Knowles.