Q4 Philadelphia Industrial Market Report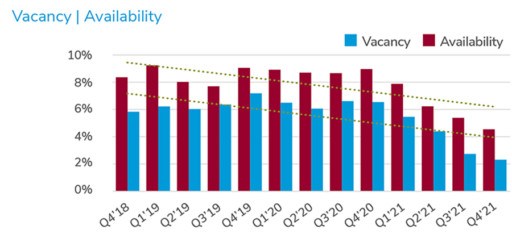 The Philadelphia Regional Industrial Market experienced 4.1 MSF of net absorption for Q4'21 as the market settled into structurally-low vacancy rates. Year-end total net absorption was a record-breaking 41.2 MSF, which combined with delayed construction schedules, contributed to historic-low vacancy rates. Vacancy dropped by 40 bps over the course of Q4'21; for CY 2021 vacancy was down by 423 bps.
Over 33 MSF of new construction deliveries are projected for the first half of 2022. While the new space is likely to raise vacancy rates in the near term, they are expected to remain well below structural levels despite the surge in deliveries. As a result, expect continued rent growth throughout the coming year as developers continue to act opportunistically.
Q4 2021 Industrial Market Report Download