LEE & ASSOCIATES STRENGTHENS REGIONAL ASSET SERVICES PLATFORM WITH HIRE OF MARK CHRISTINE AS SENIOR PORTFOLIO MANAGER
Commercial real estate professional brings 27 years of experience
Mechanicsburg, PA (May 4, 2022) – Lee & Associates of Eastern Pennsylvania, a fully-integrated commercial real estate brokerage and management firm, today announced the strategic hiring of Mark Christine as Senior Portfolio Manager for the group's Asset Services team. Mr. Christine will be based out of the firm's Mechanicsburg office and will focus on growing the Asset Services platform in Central Pennsylvania and Northern Maryland.
Mr. Christine brings more than 27 years of diversified commercial real estate experience to this new position, having worked for a variety of prominent institutional and third-party management firms over that time.  In his most recent role, Mark was responsible for a 13 million square foot commercial portfolio, with assets located throughout Central Pennsylvania.
"Mark has extensive experience managing commercial real estate portfolios for institutional owners and regional investors, and his comprehensive knowledge of asset management protocols makes him a valuable addition to our team," stated Bruce Gordon, Principal of Lee & Associates. "His vast industry knowledge, strong regional relationships, and entrepreneurial mindset are consistent with our corporate mission and approach. We have tremendous confidence in his abilities and see him as an ideal fit for our team."
"I'm thrilled to join Lee & Associates and continue to expand an already broad and diverse portfolio of managed assets," said Mr. Christine.  "I look forward to adding my expertise to the existing platform, providing best-in-class service to clients, expanding existing relationships, and fostering new opportunities."
# # #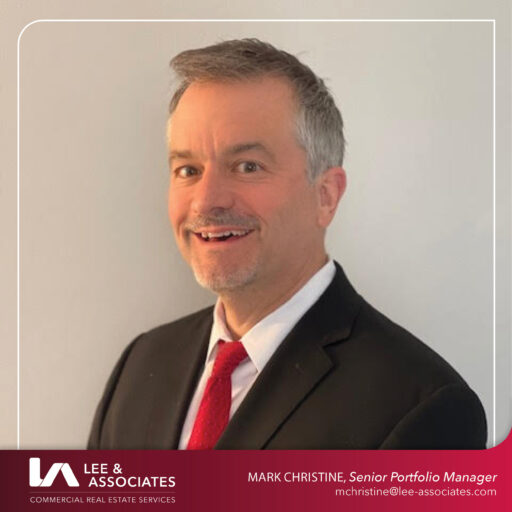 About Lee & Associates
Lee & Associates offers an array of real estate services tailored to meet the needs of the company's clients, including commercial real estate brokerage, integrated services, and construction services. Established in 1979, Lee & Associates is now an international firm with offices throughout the United States and Canada. Our professionals regularly collaborate to make sure they are providing their clients with the most advanced, up-to-date market technology and information. For the latest news from Lee & Associates, visit lee-associates.com or follow us on Facebook, LinkedIn, Twitter, and Link, our company blog.
# # #