Lee & Associates Brokers Lease of 340,695 SF along Route 33 Corridor in the Lehigh Valley.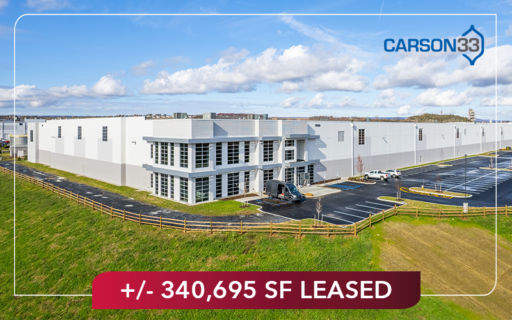 Lehigh Valley, PA June 1, 2022 – Lee & Associates Principals, Brian Knowles, CCIM, SIOR, and Eric Zahniser have arranged the full building lease of the newly completed facility located at 1000 Carson Court, Palmer Township, PA. The building, owned and developed by Carson Companies, is the newest of seven completed projects – the eighth building, a 403,896 square foot cross-dock at 1051 Carson Court, is set to deliver in late fall. Carson Companies is dedicated to the job growth and vitality of the region and is the owner of an additional 100 acres along Route 33.
"Carson Companies offers a level of sophistication and attention to base building detail you don't normally see in an industrial building," said leasing agent Brian Knowles. "These buildings are top-notch and users are taking notice."
The tenant, ABB is set to add 100 jobs at the location where it will stock more than 5,000 electrical products. The additional facility for ABB will reduce their carbon footprint by cutting delivery times to some customers by up to 50%.
Lee & Associates' Q1 research report shows the Lehigh Valley submarket at a 1.47% vacancy rate. "Economic headwind news aside, we continue to experience solid demand for last-mile facilities. said Knowles, As consumers have come to expect rapid delivery times, demand for this type of facility should remain steady."