Lee & Associates Brokers 28,091 SF Lease with Pianca Packaging in Whitehall, PA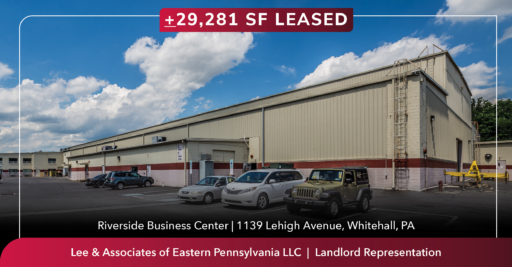 Food service packaging company develops safe food packaging containers.
Mechanicsburg, PA (June 20, 2022) – Food service packaging company Pianca Packaging, LLC has signed a lease with Buligo Capital Partners for 28,091 square feet of industrial space within the Riverside Business Center in Whitehall, Pennsylvania. Located at 1139 Lehigh Avenue and constructed in 1910, the 423,900 square foot single-story light industrial building was acquired by Buligo this spring. Brian Knowles, CCIM, SIOR , and Eric Zahniser, Principals with Lee & Associates of Eastern Pennsylvania arranged the lease transaction.
"Headquartered in New Jersey, Pianca Packaging manufactures a line of products specifically designed for safe food packaging. Pianca also provides custom-designed containers for food processors, bakeries, and supermarket chains. Newly-released products feature patent-pending tamper-evident and resistant technology. The group intends to utilize the space to open and operate a new facility serving companies nationwide."
Riverside Business Center features average ceiling heights of 20 feet, heavy power, and ample automobile and truck parking. The asset is located adjacent to US Route 22, with immediate access to Interstate 78 and the Pennsylvania Turnpike. Lehigh Valley International Airport is less than three miles from the site, while Philadelphia is approximately 60 miles south and New York City is approximately 90 miles west. This location in the Lehigh Valley submarket places the building within a one-day truck drive to approximately one-third of all consumers residing in the United States.
"Pianca Packaging was searching for a new location that could satisfy several important criteria including the availability of heavy power to fuel its manufacturing operations, access to major highways including US Route 22, and a strong labor pool," stated Brian Knowles of Lee & Associates of Eastern Pennsylvania. "Riverside Business Center emerged as the winner based on the immediate availability of space and its core location within a region with a recognized industrial user base."
Lehigh Valley is considered the 69th largest metropolitan area in the United States by population, is home to nearly 700,000 people and has a Gross National Product (GNP) approaching $43 billion. According to the Lehigh Valley Economic Development Corporation (LVEDC), more than eight million square feet of industrial space was added to the submarket last year, elevating the total to nearly 140 million square feet of space.
In its recently-released Q1 2022 Philadelphia Industrial Market Report | Logistics Set, Lee & Associates reported an overall vacancy rate of 1.96% for warehouse/industrial real estate product in the greater Philadelphia region, on the strength of more than 10.7 million square feet of net absorption for the first quarter of 2022. The vacancy rate represents a historic low for the area.
###
About Lee & Associates of Eastern Pennsylvania
Lee & Associates of Eastern Pennsylvania began operations in May 2015 under the leadership of Principals Brian Knowles, CCIM, SIOR, and John Van Buskirk, SIOR. Long recognized individually as national leaders in the industrial real estate business, they have chosen to take their over 45 years of combined real estate experience in a new direction – as broker-owners of this new initiative. Lee & Associates of Eastern Pennsylvania is committed to providing market-leading research and support while remaining grounded in exceptional client service. For the latest news from Lee & Associates of Eastern Pennsylvania, follow us on LinkedIn, Instagram, Twitter, and Facebook or visit us on the web at http://www.lee-associates.com/pennsylvania
###