Lee & Associates Brokers Full Lease of Recently Completed Lehigh Valley Industrial Building.
Lehigh Valley, PA August 26, 2022 – Lee & Associates of Eastern Pennsylvania principals Kim Jacobsen and Lee Fittipaldi represented the landlord, INDUS Realty Trust. Inc. ("INDUS"), in the full-lease up of 4741 Chapmans Road, a newly completed 102,250 square foot industrial facility in South Whitehall Township, PA. The building delivered in June with 67,750 square feet pre-leased. The team completed the remaining 34,500 square foot lease within 30 days of the building's completion. The building offers high visibility from I-476 and is located at the intersection of I-78, I-476, Route 22, and Route 309, providing excellent reach into the region. Major Lehigh Valley parcel hubs, such as FedEx, UPS, and USPS, are all within a 30-minute drive.
"4741 Chapmans Road proximity to an abundant labor pool far exceeds many competitive locations", said Fittipaldi. "Along with a best-in-class building design and on-site trailer parking lot, the building provides immediate access to the region's major interstate and highway infrastructure."
"We are pleased that our speculative, small-format warehouse/distribution project has been so well received in the vibrant Lehigh Valley market", said Tim Lescalleet, Executive Vice President of INDUS. "The project's swift lease-up is a testimony to the equally strong demand we're seeing from tenants for smaller Class A spaces in the Lehigh Valley. We look forward to continuing to grow our presence here as we deliver additional planned development projects in the future."
INDUS is a real estate business principally engaged in developing, acquiring, managing, and leasing high-quality industrial and logistics properties in select, high-growth markets in the U.S. Lee & Associates' agents Fittipaldi, Jacobsen and associate Selwyn Simpson II are now marketing another best-in-class, under construction property for INDUS located at 1115 American Parkway in Allentown, PA. The approximately 206,000 square foot building is just south of the Lehigh Valley International Airport and Route 22,  and is expected to deliver in the second quarter of 2023. Contact Kim Jacobsen, Lee Fittipaldi, or Selwyn Simpson II for additional details.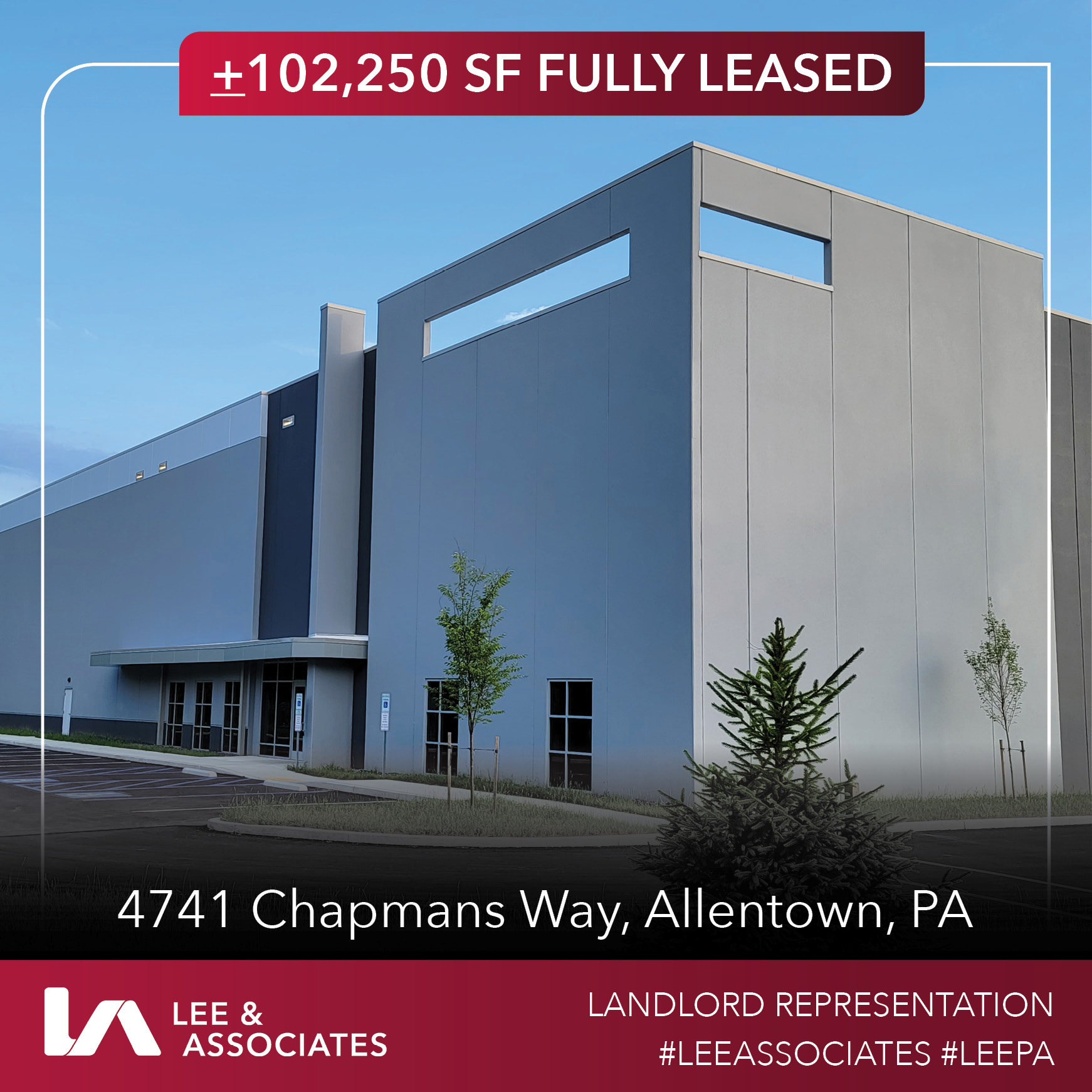 # # #
About Lee & Associates
Lee & Associates offers an array of real estate services tailored to meet the needs of the company's clients, including commercial real estate brokerage, integrated services, and construction services. Established in 1979, Lee & Associates is now an international firm with offices throughout the United States and Canada. Our professionals regularly collaborate to make sure they are providing their clients with the most advanced, up-to-date market technology and information. For the latest news from Lee & Associates, visit lee-associates.com or follow us on Facebook, LinkedIn, Twitter and Link, our company blog.
About INDUS Realty Trust, Inc.
INDUS is a real estate business principally engaged in developing, acquiring, managing and leasing industrial/logistics properties. INDUS owns 39 industrial/logistics buildings totaling approximately 5.7 million square feet in Connecticut, Pennsylvania, North Carolina, South Carolina and Florida. For the latest news on INDUS, visit the company's website at www.indusrt.com.
# # #