Capital Markets Group from Lee & Associates of Eastern Pennsylvania Brokers a 110 Acre Industrial Land Sale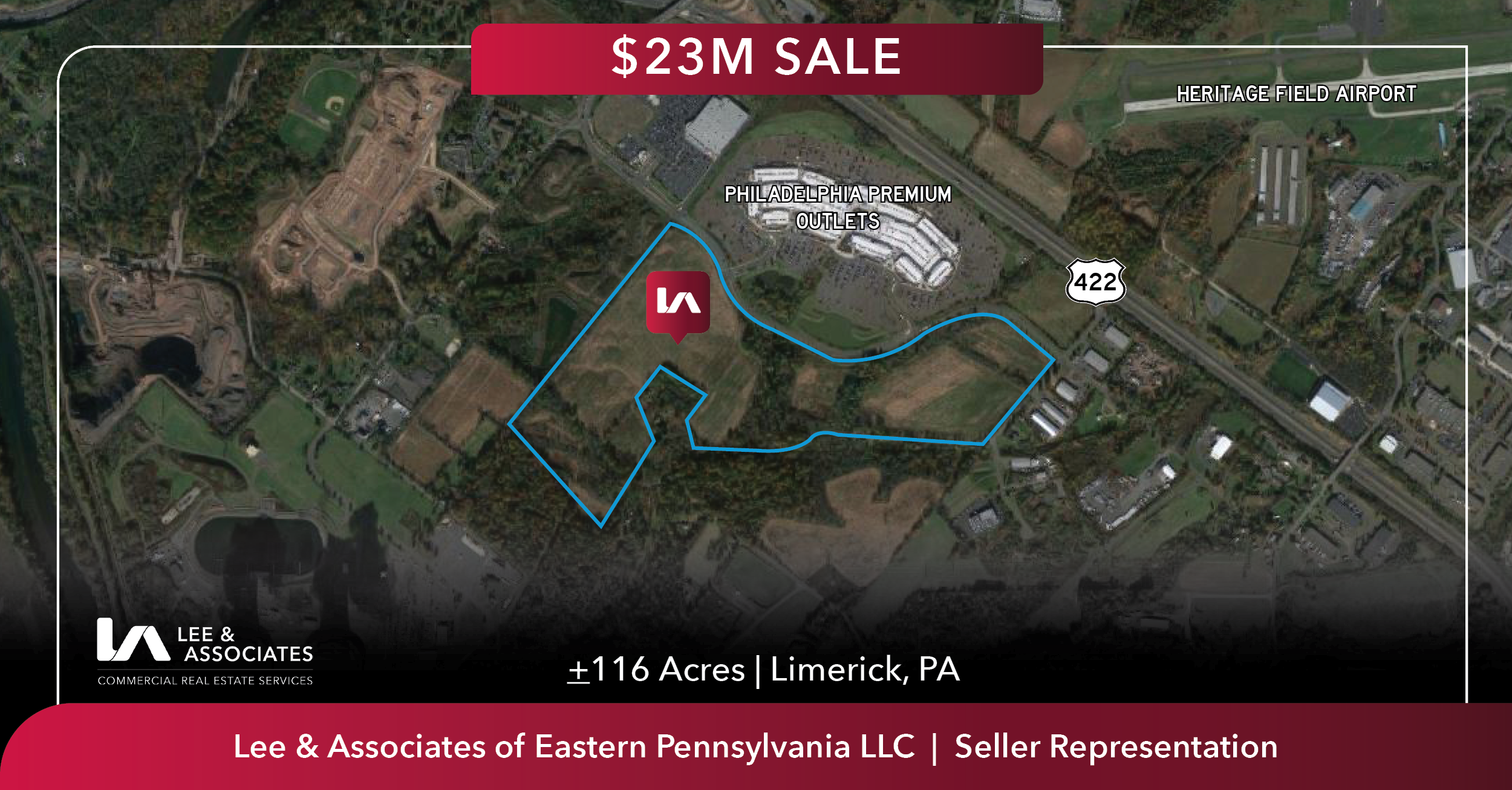 Montgomery County, PA – The Capital Markets Group, headed by Bob Yoshimura and Joe Hill from Lee & Associates of Eastern Pennsylvania ("LAEP"), arranged the sale of a 110-acre, industrially zoned land site located off the Sanatoga exit of Route 422 in Limerick, Pennsylvania. Eric Mattson and Connor Sanbower from the Lee & Associates Capital Markets group assisted in representing the Seller, Metropolitan Commercial Development.
The Buyer, an undisclosed investment group, is pursuing development approvals for over 1.0 million square feet of Class A warehouse/distribution space. This project marks a significant addition to the Suburban Philadelphia development pipeline, which has experienced recent success with projects from several major national developers. The undisclosed Buyer purchased the site for roughly $23 per buildable square foot.
Recent activity in the Suburban Philadelphia industrial market has shown strong demand for infill industrial product required to satisfy shifting consumer trends driven by e-commerce. Market fundamentals in Suburban Philadelphia remain strong, with Class A vacancy being reported at just over three (3.0%) percent and quarterly absorption climbing above 1.8 million square feet in Q2'2022 alone.
"Suburban Philadelphia, especially the greater King of Prussia market, has become one of the most desirable locations for industrial development throughout the Pennsylvania market. The diversified consumer base, density of industrial users, and persistent demand for functional space make this geographic region a central hub for regional operators," stated Mattson.
Subscribers may read the Philadelphia Business Journal Article
Read More About The Capital Markets Group