Investors and businesses often turn to the real estate industry to benefit from consistent cash flow and substantial returns. The commercial real estate industry is complex, but a trusted brokerage team can help buyers find great rates for properties that match their goals.
At Lee & Associates of Eastern Pennsylvania LLC, we are Central PA's leading commercial real estate brokers and we offer a wide selection of properties for buyers and businesses looking to purchase or lease commercial real estate in central PA, the Lower I-81 Corridor, and the surrounding regions. Our experienced team provides services to help maximize the value of your commercial real estate investment.
Commercial Listings Found in Central PA and the Lower I-81 Corridor
Finding commercial properties with the right specifications for your needs is a crucial part of maximizing your profits. Lee & Associates of Eastern Pennsylvania LLC lists various types of properties for lease or sale in Harrisburg and throughout central PA, so browse our property listings. You can work with us to find nearly any kind of commercial real estate:
Industrial: From warehouses to cold storage facilities or manufacturing plants, central PA is full of industrial facilities. Lee & Associates of Eastern Pennsylvania LLC is here to help buyers find an industrial property that meets and adapts to fluctuating government regulations.
Retail: Lee & Associates of Eastern Pennsylvania LLC will connect you with a retail property in a great location. We'll find a facility with enough square footage and room for expansion to bring your business venture to life.
Office space: Businesses seek thoughtfully designed office spaces to improve productivity and employee engagement from the ground up. Our team will connect businesses or property investors with an office space that maximizes profits.
Medical: The healthcare industry expands every year, meaning medical office buildings are in high demand. Purchase or lease a valuable medical facility so practitioners can provide better care and see consistent return visits from patients.
Land: From commercial land to agricultural, residential and transport, Pennsylvania is ripe with land investment opportunities. We'll connect you with a plot that enables you to achieve your goals.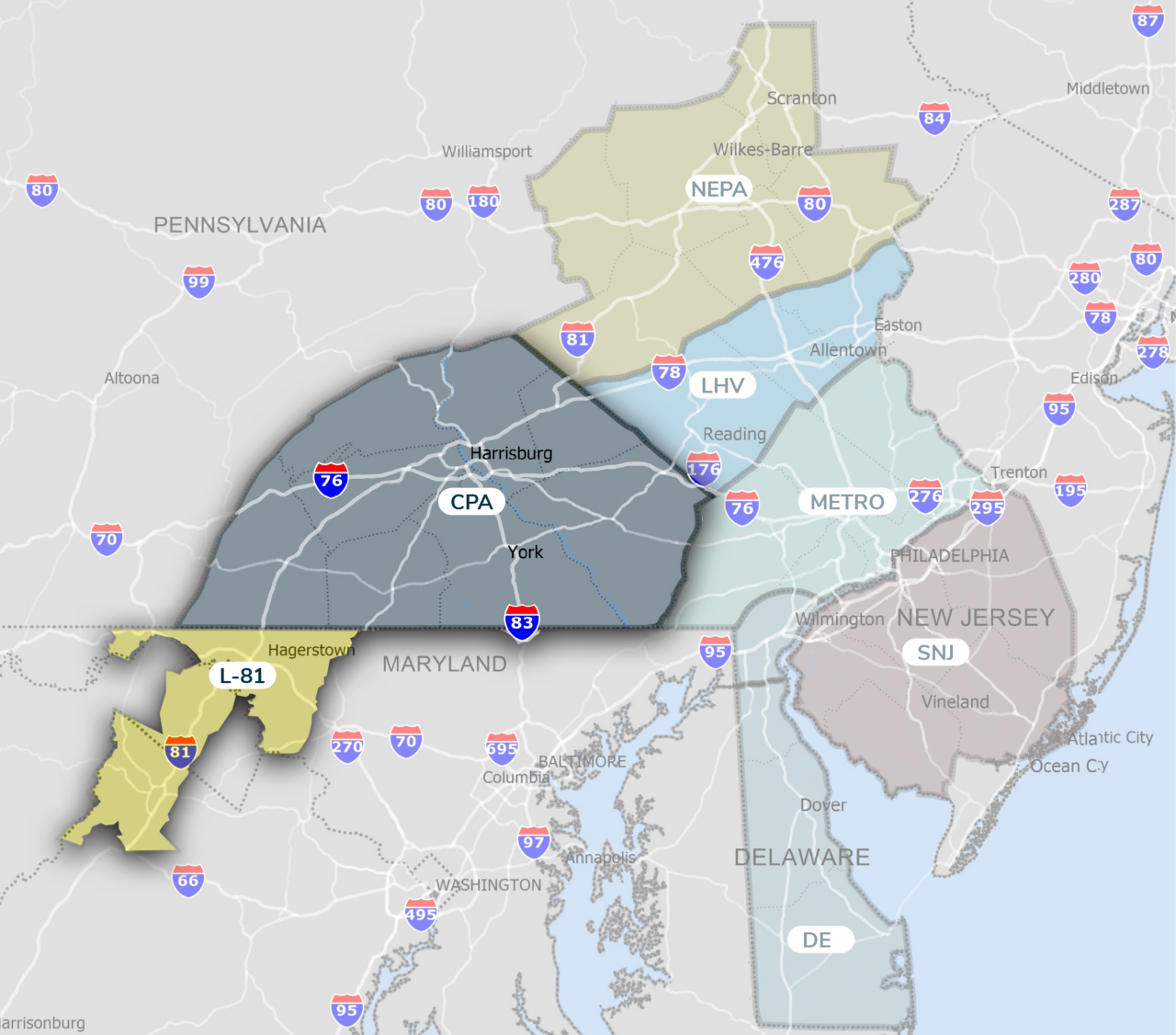 Benefits of Owning or Renting Commercial Real Estate in PA
When you purchase or lease commercial properties in central PA or the Lower I-81 Corridor with Lee & Associates of Eastern Pennsylvania LLC, you can:
Trust your investment: Businesses will pay consistent rent for access to a commercial property's amenities, making commercial real estate a dependable source of revenue for investors.
Grow your business: Purchasing or leasing a commercial space catered to your needs gives you the chance to increase efficiency and reach new heights.
Capitalize on the local market: Central PA and the Lower I-81 Corridor into Maryland, is a fertile real estate market, containing a vast selection of commercial properties. York, Harrisburg, Lancaster, and Hagerstown's expenses are low compared to larger cities, meaning businesses and investors can see significant benefits operating in the region.
Utilize geographical convenience: Central PA and the Lower I-81 Corridor boasts access to various airports, railways, ports, and other forms of transportation, meaning businesses can easily connect with other larger markets.
Contact a Local Broker
Lee & Associates of Eastern Pennsylvania LLC provides convenient services to buyers interested in commercial real estate in and around central PA and the Lower I-81 Corridor. To get started, contact a local broker or visit one of our Pennsylvania offices today!
Central PA: 4550 Lena Drive, Suite 104, Mechanicsburg, PA 17055 USA
Suburban Philadelphia: 220 W. Germantown Pike, Suite 200, Plymouth Meeting, PA 19462 USA