If you want to expand your business, you need a suitable space where you can grow. Finding new property for your business allows you to advance and offer better services and products to your customers. Commercial real estate provides the opportunity for development as well as investment for those looking for a solid immediate return. You can find valuable properties for investment or expansion across Delaware if you have the right broker to locate them.
Lee & Associates of Eastern Pennsylvania LLC can help you find the best properties for your business needs across Delaware. Our commercial real estate brokers know the area, and they'll help you find properties that create the best return on your investment and maximize your profits. Our brokers are familiar with the most desirable locations across Delaware. We can identify up-and-coming areas where you can get in on the ground floor before property values skyrocket.
Commercial Listings in Delaware
Whether you seek commercial warehouses for sale or industrial property for lease, you can find what you need with the help of our agents and brokers. Our team will scout properties that meet your location goals, offer the most optimal use of space and feature the amenities you desire. Among the most in-demand properties in Delaware include:
Industrial: Cold storage facilities, plants, distribution centers, warehouses and supply and logistics locations are available across the state. These properties can meet government regulations and evolve as those codes change.
Retail: Location can make or break a retailer, and a location within a city like Dover or Wilmington can put you close to the customers you want to reach. Well-placed storefronts can attract buyers to see your products and explore your services.
Office space: Businesses want office spaces that allow them to increase worker productivity and engagement. Property owners can gain a steady income from optimally located office buildings that encourage business growth. We can show you facilities where you can rent to multiple businesses or attract a large company to establish a long-term contract.
Medical: With the healthcare industry growing, there's never been a better time to invest in space medical providers need to see patients. Practitioners want sufficient room for their staff as well as patients. Our team knows what area medical facilities sell for and we'll help you find the best price on a property.
Land: You can discover agricultural, residential and other types of land available throughout Delaware. There's a high demand for limited property, which can help you acquire highly-valued plots that businesses and investors will want to consider.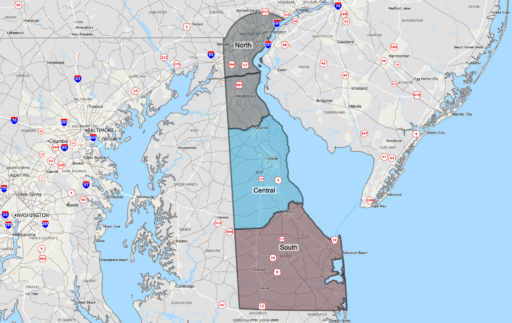 The Benefits of Owning or Renting Commercial Real Estate in Delaware
The advantages of investing in commercial real estate properties for sale or lease in Delaware include:
Excellent location: Delaware is home to big cities such as Dover and Wilmington and close to several other commercial centers.
Proximity to transportation hubs: Delaware has several airports, main travel routes, railways and ports.
Smart investment: You can find growth areas to buy in or locate up-and-coming areas where prices remain low to maximize your investment.
Business improvement: If you own a business, you want to invest properly so you can expand in the future. You can attract new customers with a property that meets your unique space and location needs.
Contact a Broker at Lee & Associates of Eastern Pennsylvania LLC Today
Our agents can help you find valuable commercial real estate that meets all of your business and investment goals. Search our current listings to see what appeals to you and get in touch with one of our brokers to begin. You can also visit one of our local offices.