Purchasing or leasing commercial real estate properties like industrial facilities, office spaces, or medical centers in Lehigh Valley, Pennsylvania, can be a great way to bolster your investment portfolio or grow your organization. PA's market is full of valuable properties, but it takes knowledge and experience to find the best deals in a demanding market like the Lehigh Valley.
When you're ready to buy or lease commercial real estate in Lehigh Valley, Lee & Associates of Eastern Pennsylvania LLC is here to help you find a property that satisfies your needs and accommodates your budget. Our team of talented agents and Lehigh Valley commercial real estate brokers will connect you with properties in the Lehigh Valley area that maximize your profits and return on investment.
Commercial Listings in
Lehigh Valley
Lehigh Valley houses a wide variety of commercial real estate properties that meet the standards of different industries. The agents at Lee & Associates will help you understand the types of properties available and find one that meets your needs. Some of Lehigh Valley's most valuable commercial properties include:
Industrial: Warehouses, distribution centers, manufacturing plants, supply chain and logistics locations, cold storage, and other industrial sites are in high demand in Lehigh Valley, PA. Businesses always need a place to work that meets relevant regulations and offers flexibility to adjust to changing codes.
Retail: Businesses and investors can benefit from purchasing or leasing retail properties near populated areas like Lehigh Valley. Trust Lee & Associates to find a profitable retail site for businesses and investors.
Office space: Lehigh Valley's businesses depend on convenient, on-ground office spaces that allow them the operate with maximum efficiency and access lucrative markets. The best office spaces will encourage growth for businesses and ensure stable revenue for property owners.
Medical: The healthcare industry is on the rise, and so is the need for accessible medical office buildings. Purchase or lease a space in Lehigh Valley that allows healthcare organizations to provide the best care to the community at a profitable margin.
Land: Lehigh Valley is a region containing plenty of available commercial land that companies can use to run thriving businesses. By purchasing or leasing commercial land, businesses and investors engage in a mutually beneficial relationship that stimulates the local economy.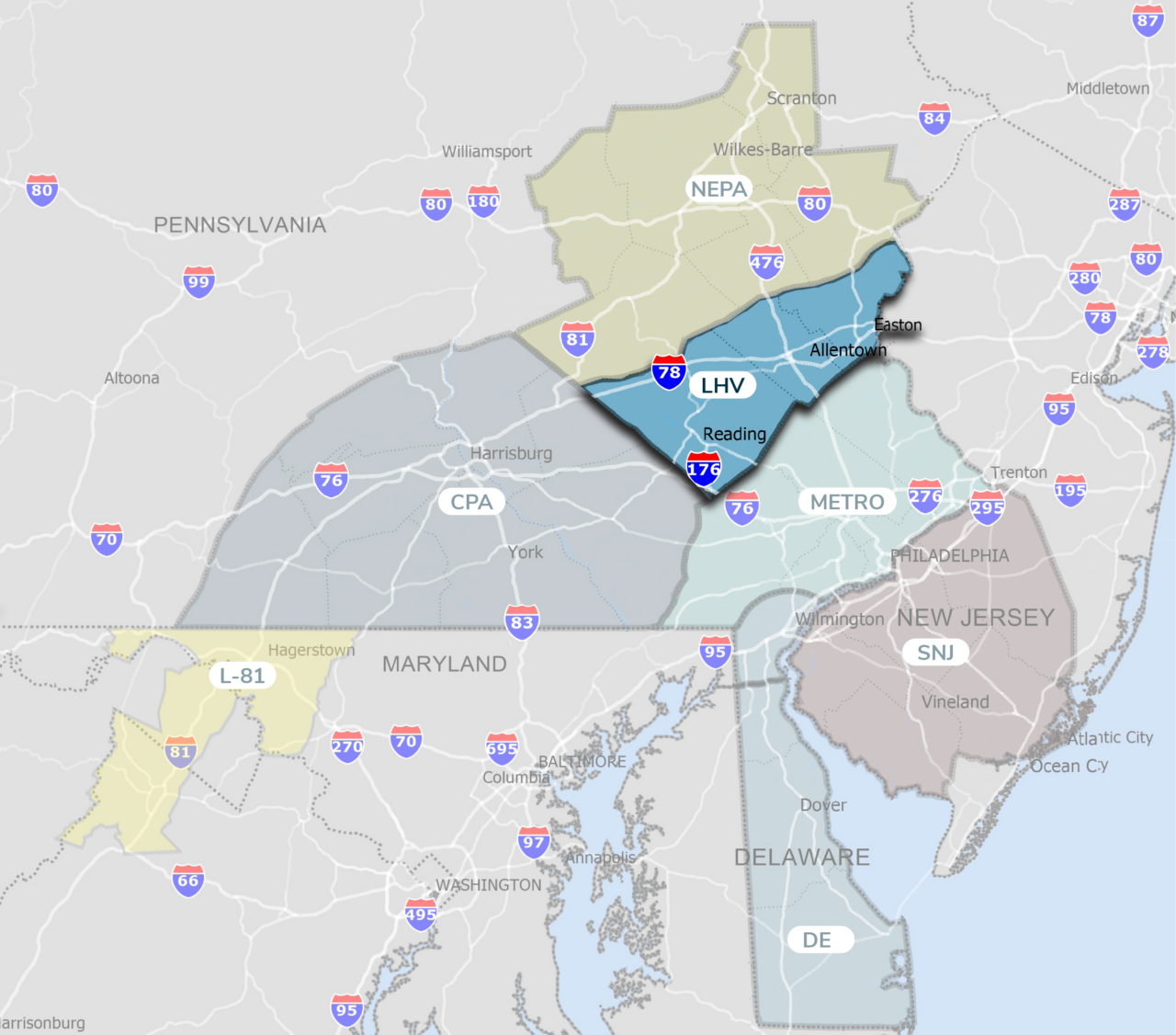 Benefits of Owning or Leasing Commercial Real Estate
in Lehigh Valley, PA
The market for commercial real estate is ripe with opportunities for companies and investors alike. By purchasing or leasing a commercial property in Lehigh Valley, you can:
Trust your investment: Valuable commercial properties promise consistent cash flow from successful businesses depending on your amenities.
Expand your company: A quality place to conduct business will ensure productivity and help your business achieve and surpass its goals.
Engage the community: Lehigh Valley has a thriving economy full of buildings, businesses and potential customers, so the area will open doors for the whole community to grow.
Access numerous markets: Sitting just outside of Philadelphia, Lehigh Valley's convenient location makes it possible to access and coordinate with markets along the entire East Coast.
Contact a Lee & Associates CRE Broker in Central Pennsylvania
Lee & Associates of Eastern Pennsylvania LLC is here to connect businesses and investors with commercial real estate that helps them achieve their goals. Browse our current listings to find Lehigh Valley properties for sale. Our agents are happy to work with you, so contact our team or visit one of our PA offices today:
Central PA: 5053 Ritter Road, Suite 200, Mechanicsburg, PA 17055 USA
Suburban Philadelphia: 220 W. Germantown Pike, Suite 200, Plymouth Meeting, PA 19462 USA