Commercial real estate holds much promise, whether you're a business owner or an investor looking to make a deal. Find northeastern Pennsylvania industrial, retail/commercial or land for sale or lease that will help you meet your business goals. You can also discover spaces to expand your business or generate greater returns on your investments. Whatever your needs, Lee & Associates of Eastern Pennsylvania LLC identifies properties that will grow with you so you can achieve your goals.
Our commercial real estate brokers offer services that will maximize your profits and provide solutions to your business's financial, operational, and space challenges. When you work with Lee & Associates, you'll enjoy the benefits of our top-notch agents and a team built with honed skill sets specific to your needs.
Our team has relationships in NEPA, throughout the Mid-Atlantic region, and beyond. We can direct you to real estate matches that check every box and have the right price for your budget. Our brokers have decades of experience in the industry and a keen understanding of the northeastern PA market, which gives us the edge to find you an excellent property.
NEPA STATS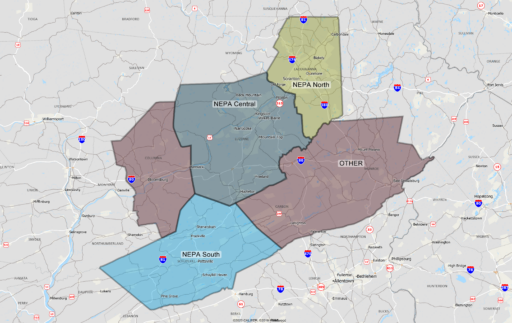 Listings in NEPA
The NEPA submarket has seen higher than average activity in the commercial real estate industry, specifically in the development of industrial assets. Major developers continue to expand in areas such as Scranton, Pittston, Wilkes-Barre, and the northern I-81 corridor as well as recent development along I-80. Lee & Associates can assist you in all aspects of purchasing, selling or leasing commercial real estate in the following industries:
Industrial: We can find cold storage facilities, manufacturing plants, warehouses, distribution centers and more in NEPA. All of these properties meet or can adapt to changing government regulations concerning such facilities.
Retail: We can locate storefronts with curb appeal and enough floor space so you can display your wares and expand your inventory.
Office space: The best offices feature design choices that encourage creativity and productivity. We can steer you toward desirable office locations throughout NEPA.
Medical: The booming healthcare industry has created a demand for space for medical practitioners. Medical offices need room for staff, patients, records and examinations to provide quality medical care. We have locations perfect for sale or leasing.
Land: You can use agricultural, residential or other lands to build or sell in the future.
Benefits of Owning or Leasing Commercial Real Estate in Northeastern Pennsylvania
NEPA is an increasingly in-demand area. Some of the benefits include:
Location and Proximity to transportation hubs

Within a one-days drive to: New York City, Toronto, Boston, Philadelphia, Baltimore, Washington DC, Harrisburg, Allentown, and more.
Access to some of the east coast's major seaports; NY / NJ Port of Elizabeth, Port of Philadelphia and the Port of Wilmington.
Proximity to multiple airports such as Wilkes Barre / Scranton International, Lehigh Valley International, Newark Liberty and Philadelphia International airports.
Highway infrastructure including I-81, I-80, I-84, I-380, and the Northeast Extension of the PA Turnpike (I-476). All toll-free, and without major bridges or tunnels to delay traffic.
Major parcel facilities; FedEx Freight, FedEx Ground Hub and UPS and rail service that has become paramount in today's logistics climate.

Labor Pool

Labor force population over 530,000.
Deep and highly skilled. There are over 20 Colleges and Universities in the northeastern region of Pennsylvania.
Average annual wages are $43,613
Daily commute in NEPA is on average, 21 minutes
Reach Out to a Lee & Associates of Eastern Pennsylvania LLC Broker Today
The brokers and agents at Lee & Associates of Eastern Pennsylvania LLC want to connect investors and business owners to the properties that will help them thrive. Let us assist you today. Browse our listings, then get in touch to learn more about our NEPA industrial and other property for sale and lease. You can also visit our offices in northeastern Pennsylvania to get started.