Are you searching for a company to manage your Industrial property? If you bought the building as an investment, you might not have the time or expertise to supervise day-to-day tasks at your new space. Lee & Associates of Eastern Pennsylvania LLC offers integrated commercial real estate services.
Enlisting our assistance can put you at ease. Feel confident we'll handle every problem with professionalism and care, allowing you to focus on your day job or other commitments. When you use our comprehensive property management services, we take care of all the small details, so you can focus on the big picture.
About Our PA Property Management Company
Lee & Associates of Eastern Pennsylvania LLC is North America's largest broker-owned firm with more than four decades of experience. We provide full service to our clients, we focused on performing all the tasks you need to get done while bringing you a greater return on your investment. Our experienced and knowledgeable agents can:
Maximize efficiency by providing superior solutions that assist your tenants and serve your purposes.
Minimize operating costs at your property.
Protect the value of all your assets, such as fixing small problems before they escalate.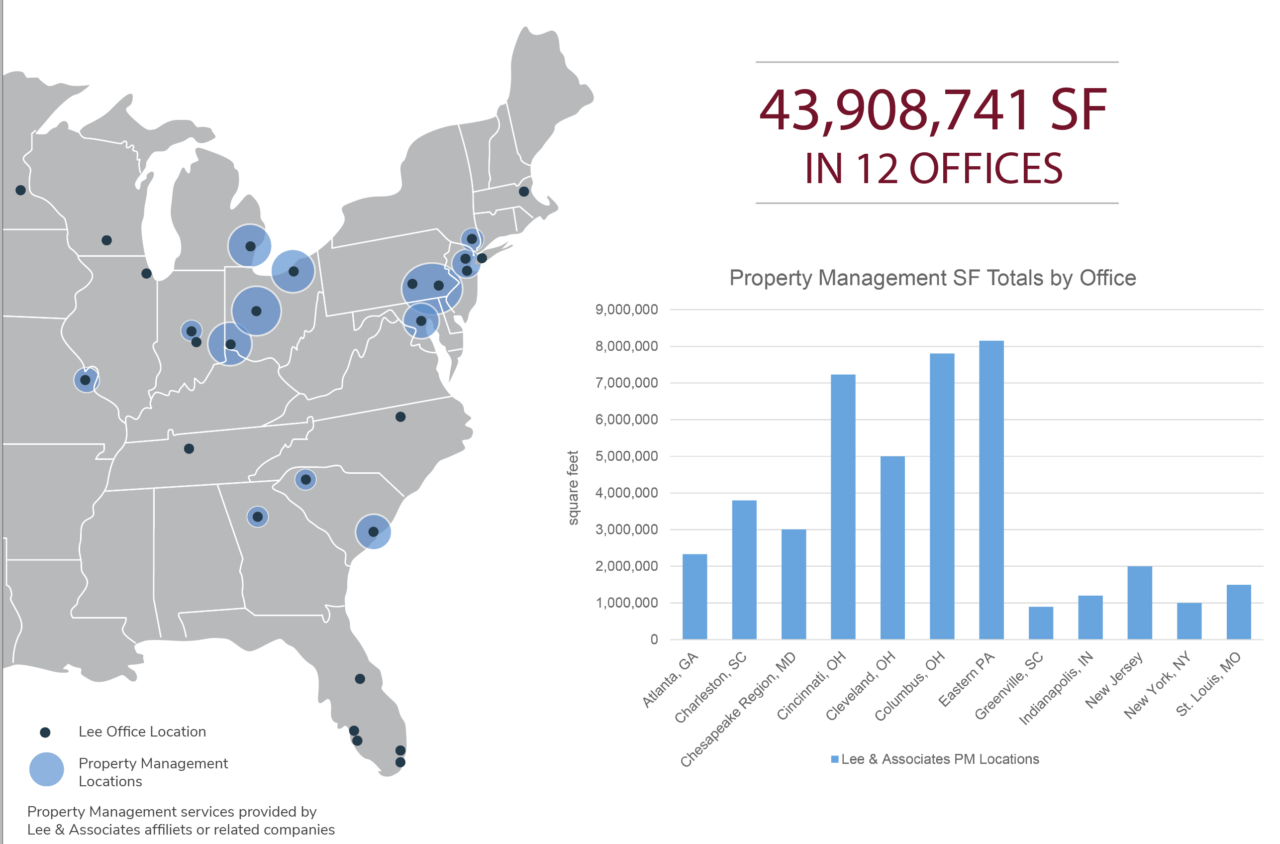 Our Property Management Services
When we partner with you, we act as an extension of your personal brand to take care of everything that would usually fall to you. We understand the responsibilities of a good property manager and can fulfill every need. Just a few of our services include:
Supervising contractors and vendors. We can also oversee the bidding process as you expand and improve your properties.
Providing expense control and revenue maximization. Preserving your cash flow means presenting aggressive receivable collections, too, saving you the time associated with running down late rent checks.
Conducting regular property inspections. We perform preventive maintenance to ensure the property remains in good condition. With our detailed record-keeping, you can trace the origins of any issues we need to address down the line.
Responding to tenant service calls. Our team provides prompt service to keep tenants happy.
Keeping up with tenant communications. We let renters know about changes or things to be aware of well in advance.
Preparing the fiscal operating budget. We'll provide you with the fiscal operating budget promptly, so you can plan ahead.
We also offer bankruptcy and real estate-owned services, as well as construction management, marketing and leasing, and maintenance personnel services.
Learn More About Our Property Management Services in Pennsylvania, New Jersey, Maryland, New York, and Beyond
Our experienced and dependable team relies on market knowledge, relationships with local repair providers, and insights from previous properties to offer the best property management. We always act professionally and politely, protecting your relationships and ensuring your tenants remain happy in your space.
We stand out among other Pennsylvania property management companies for our attention to detail and dedication to doing the best job. Take something off your plate by contacting us today to discuss how we can help manage your property today.