Patricia Donahue Named Director of Marketing & Strategy of Lee Atlanta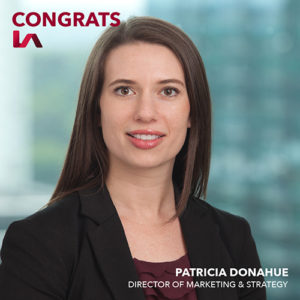 February 26, 2020 (Atlanta, Georgia) – Lee & Associates – Atlanta is proud to promote Patricia Donahue to Director of Marketing & Strategy. In her new position, Patricia's responsibilities include analyzing and consulting on marketing and business development strategies, performing data analysis to track marketing interactions and performance, creating custom marketing pitches and material, and overseeing the firm's PR and social media engagements. She will utilize high-level strategy to transform marketing, graphic design, and research into value-add services that procure new business and retain existing clients.
Since joining Lee & Associates from Cushman Wakefield, Patricia has been instrumental in helping the Atlanta office win new business.
Lee & Associates – Atlanta President & CEO David Howard said, "We at Lee & Associates are pleased to have a person with such impeccable credentials to take our marketing group to a new level. We have high expectations within our company, and people such as Patricia will help us achieve those goals. Marketing is a very important component of our business and our customers expect high quality materials from us when working with them on their real estate assets. We are pleased to have her with us here at Lee & Associates Atlanta."
Patricia is a graduate from Florida State University where she received a Masters in Marketing and certification in purchasing and supply chain management from the Shanghai Collegiate Internship Centre for International Business.