LEE IN THE NEWS : Lee Atlanta's Jim Ramseur lists ±19,500 Acres in Cartersville, GA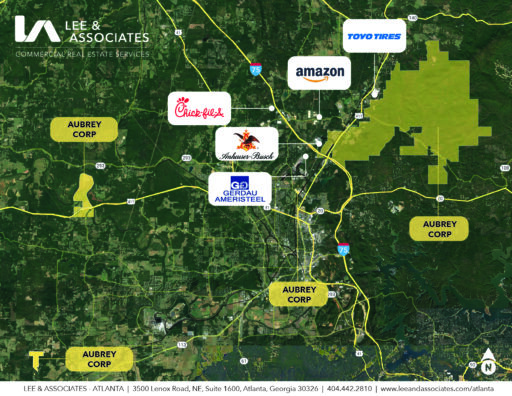 May 10th, 2022 (Atlanta, Georgia) - The Aubrey Corporation, owner of ±19,500 acres in Cartersville, Georgia (within Bartow and Cherokee Counties), announced today that they have tapped Jim Ramseur, Executive Vice President, and Partner at Lee & Associates – Atlanta, and his team with the disposition of the entire corporation's portfolio. The holdings consist of parcels that are slated for a variety of land uses, including Timber / Recreational green space, Industrial, Single-Family Residential, Multi-Family Residential, Commercial, Retail, and Mineral.
The ±19,500-acre portfolio is one of the largest contiguous, private, single-entity holdings between Atlanta, GA, and Chattanooga, TN. "The continued expansion north of Atlanta and the growth that the area has experienced over the past 5 (five) years made it a logical decision to exit monolithically; the biggest hurdle was choosing the right person and firm to represent us. Jim and his firm's experience in the area and nationwide made our decision both comfortable and confident.", stated Mr. Robert Neel, Managing Member of The Aubrey Corporation.
Over the past several years, there has been much activity in this area, which has caused interest from regional, national, and international developers focused on the I-75 North corridor from Atlanta into Tennessee. During this time, corporations like Amazon, Anheuser - Bush, Toyo Tires, and numerous other mixed-use developers have made this area their home. "Continued enjoyment of green space, as well as the need for smart development of housing and live, work, play projects, are an essential part of the growth plan for the area and these ±19,500 acres are right in the heart of that path.", stated Ramseur.