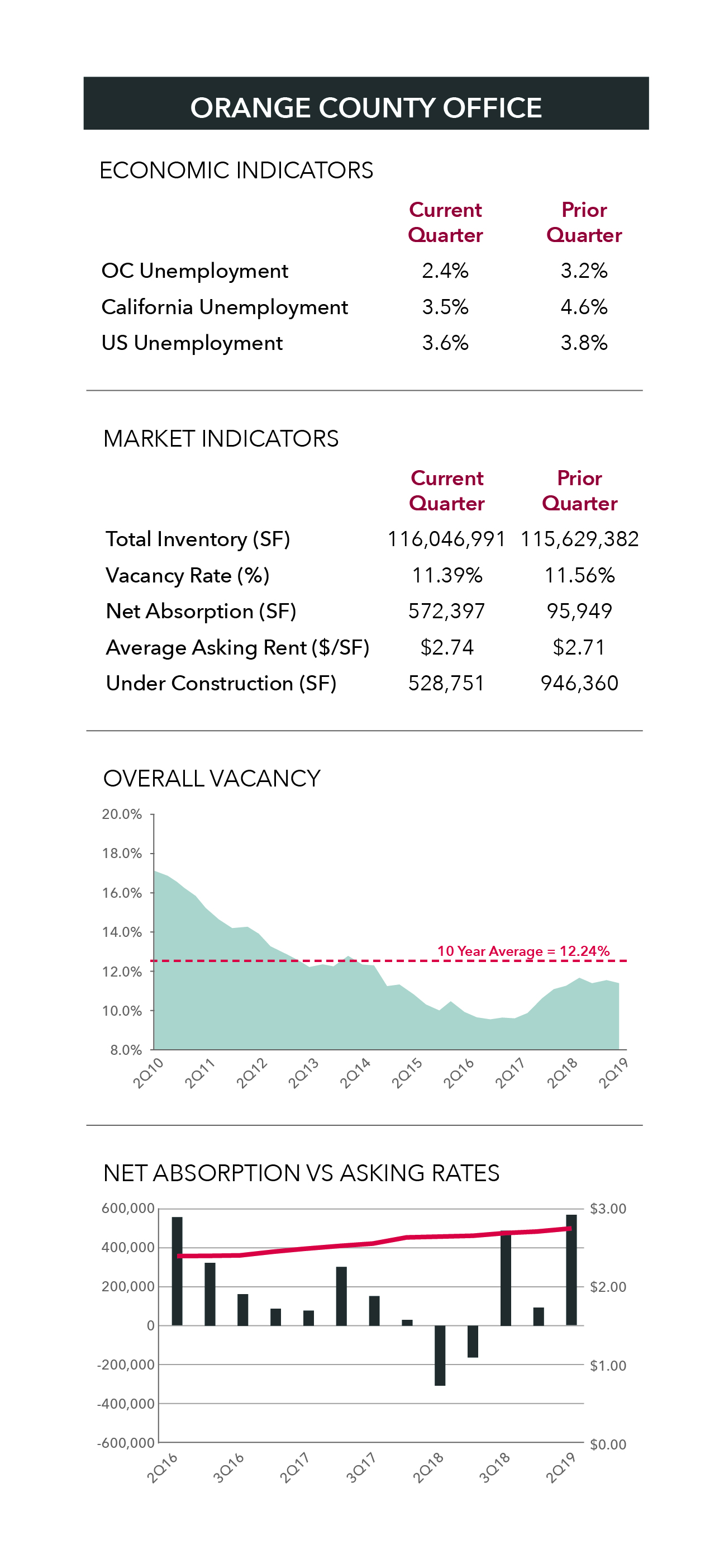 Market Report: Demand for Orange County office space posted the strongest first half in four years, led by solid tenant growth that lately is trending in the direction of Airport-area buildings.
The market report indicates the overall market is in its ninth straight year of steady tenant expansion, during which occupancy gained 12.4 million SF. Net absorption has been positive for 30 of 36 quarters. At the same time 46 buildings have been completed, adding 6.8 million SF to the inventory that now includes 1,340 buildings totaling more than 116 million SF across the county's five markets.
Despite four buildings landing on the market in Q2, the countywide vacancy rate fell 15 basis points from the first quarter, settling at 11.4%. Eight buildings totaling 863,009 SF were delivered in the first half, the most new space completed in any two-quarter period since 2011. Five buildings totaling 528,751 SF were under construction at the end of Q2.
First-half tenant demand was greatest in the 44.7-milllion SF Airport market, which accounts for about 38% of the county inventory. Airport net absorption year to date totals 650,428 SF compared to 572,397 SF countywide. That is a turnaround from the previous three years in which Airport-area tenants shed 855,178 SF of space even as developers were underway on eight buildings totaling 921,000 SF.
The headline lease deal in Q2 also was in the Airport market. Law firm Rutan & Tucker signed a 12-year, 72,000-SF agreement for the top floor and other space at Boardwalk, two new buildings by Trammell Crow totaling 545,000 SF on Jamboree Road. Rutan becomes Boardwalk's largest tenant and vacates Irvine Company-owned space at 611 Anton Blvd., Costa Mesa, in Pacific Arts Plaza, its home of nearly 40 years.
After posting 839,350 SF of net absorption in 2018, demand for South County space has been nearly flat this year. The Irvine Company is completing construction on Spectrum Terrace, a 350,000-SF office development, and announced plans for a 500,000 SF development, Innovation Park, also in Irvine.
Demand for space was positive 127,622 SF in the 22-million SF Central County market in the first quarter, snapping a streak of four quarters of negative net absorption totaling 488,523 SF. In the second quarter Equity Office Management, a major national investor, sold One & Two MacArthur Place, two nine-story premium buildings totaling 440,000 SF. The buildings traded for $137 million and are the county's top sales this year. Equity purchased the buildings in Santa Ana's South Coast Metro submarket 2013 for $82.5 million.
Central County led in rent growth at 16.2% over the last 10 quarters followed by 13% in North County, 12.6% in South County, 10.4% in West County and 7.8% in the Airport market.
FORECAST MARKET REPORT
Professional and business services employment in Orange County will increase 2.9% this year, the most of any job category, said Chapman University economists in their recent mid-year update. The county's housing prices also should experience a modest recovery this year, Chapman researchers said.