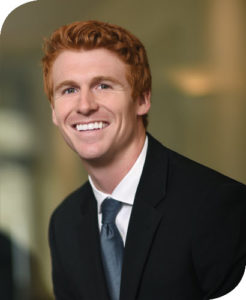 Biography
Robert Degen joined Lee & Associates-Orange, Inc. in July 2018 under the guidance of Marshal Vogt, Matt Orville, and Jaimeson Hearne. He focuses on the leasing, purchasing and selling of office space on behalf of property and business owners throughout Orange County. Robert began his career at Lee & Associates with a highly motivated and energetic demeanor. He looks to make his way up the ranks in the company and strives to commit himself to customer service and client relationships. As the newest member of the Office Advisory Group, Robert Degen specializes in representing Owners and Tenants with their office real estate requirements. Robert brings with him enthusiasm and commitment to every assignment.
Career History
• Spring 2018-Current: Runner at Lee & Associates Commercial Real Estate - Orange • Fall 2017 - Spring 2018: Intern at Lee & Associates Commercial Real Estate - Orange • Fall 2016 - Fall 2017: Assistant Sales Representative at Celtic Commercial Finance • Spring 2015-Spring 2017: Chief Operating Officer at Collegiate Car Services
Affiliations
While a student at Chapman, Rob competed on the athletic field as a member of Chapman's Division 3 baseball and football teams in 2014-2015 and later joined the fraternity of Phi Gamma Delta.
Education
Chapman University (2018) ~ Bachelor of Science Degree, Business Administration with a Minor in Political Science.
Bonus: Q & A
Question #1: When did you decide that you wanted to be a commercial real estate broker? Rob: " I decided I wanted to be a commercial real estate broker after I started working for Lee & Associates – Orange in November 2017." Question #2: What made you interested in joining Lee & Associates, Orange? Rob: "I liked that Lee and Associates, Orange would really invest a lot of time into us to ensure our success as brokers. I felt like I was going to be prepared and ready to do business after the program they offered. I also liked the people and culture of the office." Question #3:  "What's your background? (Where did you grow up? Where did you go to school?)" Rob: The reason I joined Lee & Associates – Orange is because I loved the team atmosphere and environment. Everyone in the office has been very open to answer questions and provide advice whenever it is needed. Question #4: Where do you want to be in 5 years? Rob: "In five years, my goal is to be a partner of Lee & Associates – Orange and have a solid book of business to work with." Question#5: What is your favorite quote? Rob: "Nothing in the world can take the place of persistence" – Calvin Coolidge, 30th President of the United States