First time on the market in 70 years, Colleen Carey from Lee & Associates – Pasadena closes sale on 5.78 AC of vacant land
October 14, 2021 (San Bernardino, CA)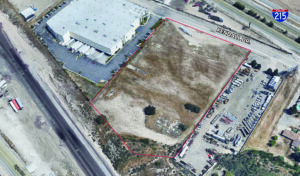 Lee & Associates – Pasadena Founding Principal, Colleen Carey, closed the sale on a 5.78-acre parcel of vacant land located on Kendall Drive fronting the 15 Freeway in North San Bernardino, California.  The parcel is in the Glen Helen Specific Plan Area, which is zoned Corridor Industrial.
"This property offering was extremely competitive as there was high demand from developers due to its zoning allowing for industrial distribution use. Given the shortage of light industrial/warehouse distribution space in the market in general and the attractive size/shape and location of this parcel –there were multiple offers from strong buyers," explained Colleen.
This was the first time on the market in 70 years for this choice piece of property having been held by a family trust since they acquired it in 1951—long before the appearance of the Interstate System which it now fronts.
The buyer, Western Realco out of Newport Beach, was represented by Patrick Wood of Jones Lang LaSalle's Ontario office. The Seller, the Loveland Family Trust, was represented by Colleen Carey, a Founding Principal of Lee & Associates-Pasadena.
###
ABOUT LEE & ASSOCIATES
Lee & Associates – Pasadena is a full service commercial real estate company headquartered in Pasadena, CA. Our client-focused brokers specialize in office, retail, tenant advisory, multifamily, and investment sales. As the fastest-growing broker-owned firm in the nation, with more than 60 office locations in North America, we are uniquely qualified to support our clients' real estate needs in the local, national and international markets. For more information, visit lee-pasadena.com.
###