Lee & Associates Pasadena Hires Hannah Howard As Associate
September 6, 2023 – Pasadena, CA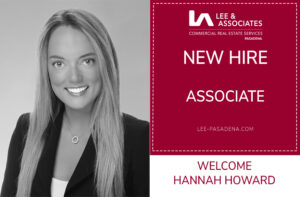 The Pasadena office of Lee & Associates is proud to welcome onboard a new Associate, Hannah Howard! With previous experience as a Project Manager for a construction firm, Hannah is equipped with the skills necessary to successfully manage expectations and deliver outstanding customer service. She understands the importance of building strong relationships and goes above and beyond to exceed client expectations.
"We are excited to welcome Hannah as the newest member of our team and know he will provide great value to our office and the clients we all serve," said John Berger, President and Founding Principal of Lee & Associates – Pasadena.
< Click here to read Ms. Hannah's resume >
About Lee & Associates
Lee & Associates – Pasadena is a full service commercial real estate company headquartered in Pasadena, CA. Our client-focused brokers specialize in office, retail, tenant advisory, multifamily, and investment sales. As the fastest-growing broker-owned firm in the nation, with more than 60 office locations in North America, we are uniquely qualified to support our clients' real estate needs in the local, national and international markets. For more information, visit lee-pasadena.com.