Lee & Associates continues dynamic growth with the addition of Tony Rod as the Newest Principal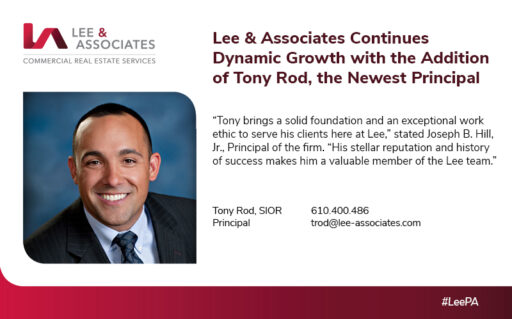 Veteran agent joins the industrial division to spearhead growth along the I-95 & I-295 Corridor.
July 6, 2020 09:00 AM EST
Pennsylvania—Lee & Associates, a national full-service commercial real estate firm, announces the addition of a new Principal with a focus on the regional Philadelphia industrial market. Tony Rod has joined the brokerage team in order to enhance Lee's capabilities in the Philadelphia and Southern New Jersey industrial submarkets and beyond. He will continue his successful practice in landlord and tenant representation as well as acquisitions and dispositions of industrial real estate.
"Tony brings a solid foundation and an exceptional work ethic to serve his clients here at Lee," stated Joseph B. Hill, Jr., Principal of the firm. "His stellar reputation and history of success makes him a valuable member of the Lee team."
"The platform at Lee & Associates allows me to extend and expand the services I'm able to provide to clients," said Tony.
Tony brings over 18 years of industry experience, which has included over 13 million square feet of industrial transactions for his clients. During his tenure, he has worked with numerous institutional clients as well as private owners throughout the Philadelphia Metropolitan Area. He is a member of the Society of Industrial and Office Realtors (SIOR) and is active at his local boys club. Tony was recognized as a "40 under 40" award recipient in Southern New Jersey and was the 2018 Company Broker of the Year at his previous firm.
# # #
About Lee & Associates of Eastern Pennsylvania
Lee & Associates of Eastern Pennsylvania began operations in May 2015 under the leadership of Principals Brian Knowles, CCIM, SIOR, and John Van Buskirk, SIOR.  Long recognized individually as national leaders in the industrial real estate business, they have chosen to take their over 45 years of combined real estate experience in a new direction – as broker-owners of this new initiative.  Lee & Associates of Eastern Pennsylvania is committed to providing market-leading research and support while remaining grounded in exceptional client service. For the latest news from Lee & Associates of Eastern Pennsylvania, follow us on Facebook, LinkedIn, Instagram and Twitter or visit us on the web at http://www.lee-associates.com/pennsylvania
About Lee & Associates
Celebrating more than 40 years of leadership excellence in commercial real estate, Lee & Associates is the largest broker-owned firm in North America with locations across the U.S. and  Canada including California, Colorado, Arizona, Florida, Georgia, Idaho, Illinois, Indiana, Kansas, Maryland, Michigan, Missouri, Nevada, New Jersey, New York, North Carolina, Ohio, Pennsylvania, South Carolina, Texas, Toronto, Ontario, Vancouver BC and Wisconsin. With more than 800 brokers nationwide, Lee & Associates provides a wide range of specialized commercial real estate services on a local, regional and national level. For the latest news from Lee & Associates, visit lee-associates.com or follow us on Facebook, LinkedIn and Twitter.
# # #