Questions to Ask Yourself Before Signing a Lease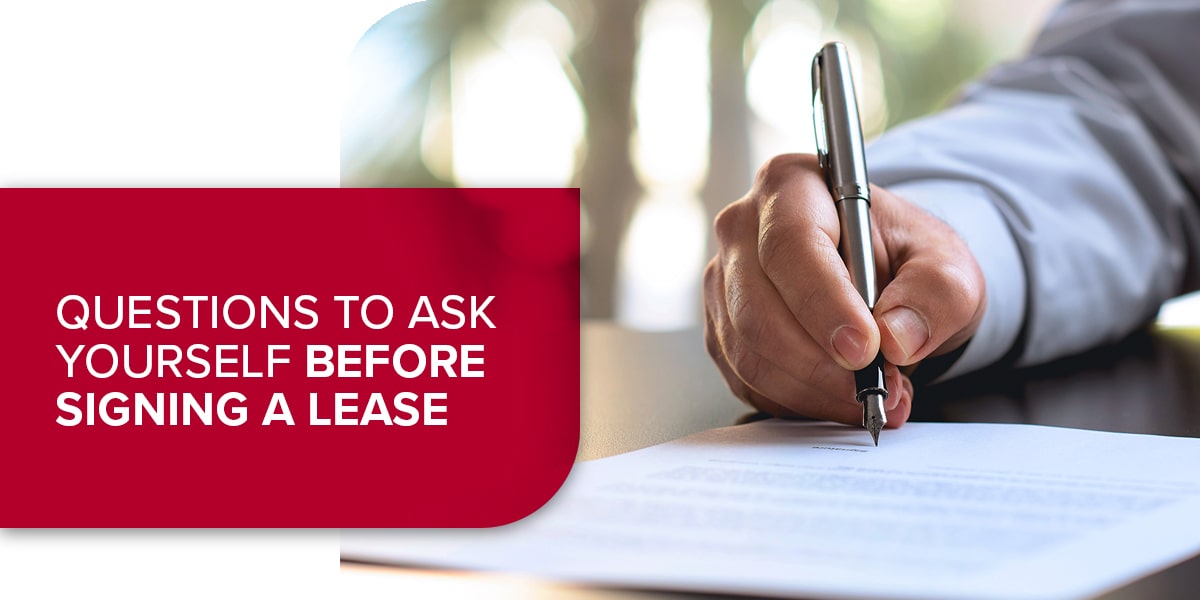 Signing a commercial lease can be an involved process. There are a few essential questions to ask yourself and research before you commit. In this FAQ about signing a lease for a commercial property, you'll get all the information you need to consider before you sign and tips for choosing the right agreement for your business.
1. Are You Building for the Future?
Before signing a commercial lease, analyze your company's growth trends. Commercial leases are often multiyear contracts, and many businesses don't see significant profit or growth in their first year. However, many see incredible growth in their second and third years. Some startups have even reached 200 percent user growth rates within that time frame. If you're signing a five-year lease, you need to know that you can build and expand in the future.
Ensure the space you're leasing will be adequate for years to come by assessing how much your business will likely grow. If you anticipate adding more employees and outgrowing your current space before the lease ends, look into any surplus space you can lease out. If your growth assessment reveals uncertainty in your future, the safest option is likely to determine if the lease terms allow you to sublet any additional space you don't need.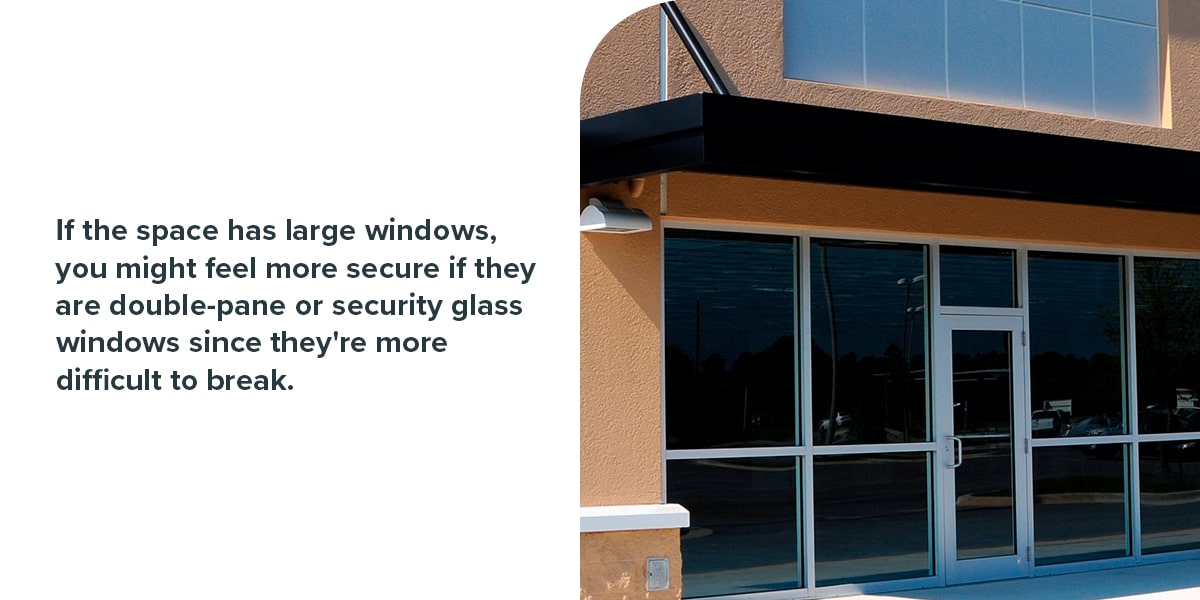 2. Is the Location Safe?
The proverbial "location, location, location" applies to residential real estate and commercial spaces alike. Walk or drive around the area and explore surrounding businesses to see if you feel safe. Speak with other business owners nearby and note any issues with vandalism or theft.
Consult your potential landlord to see what safety measures already exist in the building, like alarm systems. If the space has large windows, you might feel more secure if they are double-pane or security glass windows since they're more difficult to break. Door locks, access points and on-site security are other safety aspects to inquire about when assessing if the location is safe.
When thinking about the location, also consider your employee demographics. If most professionals in your industry live downtown, leasing a space uptown probably won't attract their interest. Consider public transportation routes in heavily urban areas, as many of your employees and customers might not have their own cars.
3. Is the Office Space Adequately Wired for Your Business and Equipment Needs?
Electricity is essential for all businesses, but not all electrical systems are the same. Older buildings might have more delicate wiring that isn't accustomed to the intense electrical needs of most companies. You certainly don't want to move in and realize you have to rewire the entire space, as that's an immensely costly project. Lack of outlets is another issue in older spaces, though sometimes you can add new ones on opposite sides of walls with existing outlets. However, this often requires a professional electrician.
Some newer buildings might have electrical systems that aren't built for heavy usage, like large servers and dozens of computers. When searching for places, keep your business and equipment's electrical needs in the forefront of your mind. While you don't want to be surprised with faulty or insufficient wiring after finalizing the lease, sometimes rewiring a space is a good investment if all other factors line up perfectly — you just want to be prepared for the added expense and time.
4. How Much Will Furniture Cost?
Furniture might be the last thing on your mind when finalizing lease terms, but it's an essential consideration. If you're coming into the space from another location, a tape measure and floor plan are your friends. Know the dimensions of your larger pieces of furniture  — especially essential items, like sales counters or special displays — and determine if and how they will fit into the new space.
If this space is your first location, having a general idea of how much and what kind of furniture you need will help you plan for the cost and dimensions.
5. How Much Will the Lease Fee Increase Each Year?
Read the lease closely for annual percentage increases. These are stipulations that dictate how much the lease price will increase yearly. Lease escalation is a standard practice in almost all commercial real estate properties. The rate of increase differs from lease to lease — they could take the form of annual percentages, such as a two percent annual increase, or flat increases like 30 cents per square foot a year.
To avoid a huge increase when the lease comes to renewal, you might be able to get the lease written with the option to renew at the same increase rate as your previous lease. If there is no option to renew, you might need to prepare for a significant increase. Since moving is also a considerable expense, weigh your options to be the most prepared.
6. What's Included in the Lease?
The total costs associated with leasing commercial space are not limited to monthly lease charges. Some expenses might be included in the lease agreement, but you might be responsible for others. For example, the building owner might assume water utility charges but leave you liable for electricity. Even if all utility costs are in the lease, there might be additional charges, such as property taxes and trash collection.
Common area maintenance, or CAM, are fees associated with building maintenance. Your individual fee is based on the percentage of the building you occupy. For example, if you occupy a unit that takes up 25 percent of the building, you'll pay a commensurate rate compared to the other tenants. CAM rates might increase along with your lease rate.
7. Who Handles Repairs?
Unlike most residential leases, commercial leases often stipulate that tenants are responsible for all maintenance costs. This should be spelled out clearly in the lease terms, including exactly what kind of repairs you are responsible for. For instance, you may need to cover repair costs for any damage inside your space, but the landlord could take ownership of external maintenance such as snow removal and lawn care. Don't forget to account for preventive maintenance, as well as emergency repairs to keep ongoing costs minimal.
If you're on the hook for repairs, ask the landlord if they know contractors they trust and who are familiar with the building. They might save you money in the long run, as shoddy repair and maintenance work can end up costing you more.
8. How Much Traffic Does the Building See?
When moving into retail spaces, the landlord should give you an accurate account of how many cars pass per day. A pedestrian count may also be helpful, particularly if the building is in a walkable downtown or bustling city. Ask the landlord how consistent the traffic is and the busiest times of the day for a clear picture of what a typical day looks like, which is especially important if you rely on walk-in business.
If the landlord doesn't have this information, the local or state government might have reports on traffic density. Check with the department of transportation for up-to-date traffic volume maps. If all else fails, you can go yourself to monitor the cars and foot traffic that pass by.
9. Is There Enough Parking?
Consider the number of parking spaces in the lot, how many businesses you share the space with and their average customer volume. If you're next to a supermarket, you'll likely have a large parking lot, but there will be heavy competition for the front spaces. If there are ten spaces to share between five different businesses, you might want to rethink the location.
Safe and convenient parking is important for customers and employees. Unsafe parking conditions or lack of spots might turn away potential customers, so be sure to survey the parking lot before signing the lease. Check that drivers can easily and safely turn in, or if heavy traffic makes it more difficult. These factors impact how many passing cars will actually turn into your business lot.
Consider the number of accessible parking spaces and loading zones as well. If you expect frequent deliveries or want to be inclusive of customers with accessibility needs, these features are essential.
10. Is the Building Accessible?
Accessibility is important — so much so that the government requires new construction to comply with the ADA Standards for Accessible Design. These standards dictate how buildings can make access easier for individuals with disabilities or limited mobility. Older buildings may not have accessible features. Before signing a lease, be aware that the cost for alterations to make your space more accessible — an essential factor for medical facilities and clinics — may fall on your shoulders.
11. Who Owns and Manages the Building?
The landlord or building manager your primary point of contact, and clear communication is essential. Sometimes, the owner of a building will live out of town, so that's good to know before deciding.
Ask current tenants how their experience has been communicating with the landlord for things like payment questions or maintenance requests to get a better picture of your experience. You can also ask the landlord for references from previous tenants.
12. Do You Understand the Lease?
Lease terms can be overwhelming, and even terms you know the meaning of might serve different purposes within the lease. Leases are long business documents, and unless you're an attorney or a landlord, various sections and terminology might be challenging to decipher. The average person likely has little familiarity with terms like arbitration clauses and capital expenditures.
It's always a good idea to have your attorney look over the lease before you sign it. All leases protect the landlord's interests, but you need to make sure your interests are also represented. Your attorney will explain the lease terms to you and even suggest places you can negotiate better terms.
Remember, you can always request to add or change certain terms in your lease — it's better to negotiate and get rejected than accept unfavorable terms and regret them later, especially if your lease doesn't include an out clause.
13. Are All Promises in the Lease?
Anything you negotiate or discuss regarding the property should go in the lease. If the landlord says your business will have assigned parking spaces, be sure to include that in writing. If you're allowed to use common spaces outside your designated office area, such as a kitchen, ensure it's stated in the lease. These promises are hard to enforce if they simply remain as verbal agreements.
No matter how trustworthy and sincere a landlord is, having all promises in the lease gives you peace of mind and protects your interests, while also providing an easy document for both you and the landlord to refer to with questions.
14. Can You Assign the Lease, Sublet the Space or Sell Your Business?
Assigning a lease means you transfer it to another person if you sell your business. The lease would remain with the business buyer under the same terms. However, many landlords prefer to terminate your existing lease and renegotiate with the new buyer, often for higher rates. Check with the landlord to remove this provision or change the terms so that they don't include the sale of your business.
Subletting the space means you want to transfer your lease to a sublessee, who pays you a portion of the lease fee while you continue paying the landlord the agreed-upon amount. Having a sublessee is great if you expect to downsize and have extra space, but most landlords do not allow subleases. If a no-sublease provision is already in the lease, you can always try to negotiate.
15. Can You Get an out Clause Written Into the Lease?
An out clause is a provision that allows you to get out of the lease before it ends. This type of clause is a great safety net should you quickly outgrow your space. While leases are challenging to get out of, considering this before signing a lease may prevent you from assuming costly penalties for early termination. Many landlords will request substantial written advance notice if you negotiate an out clause into the lease.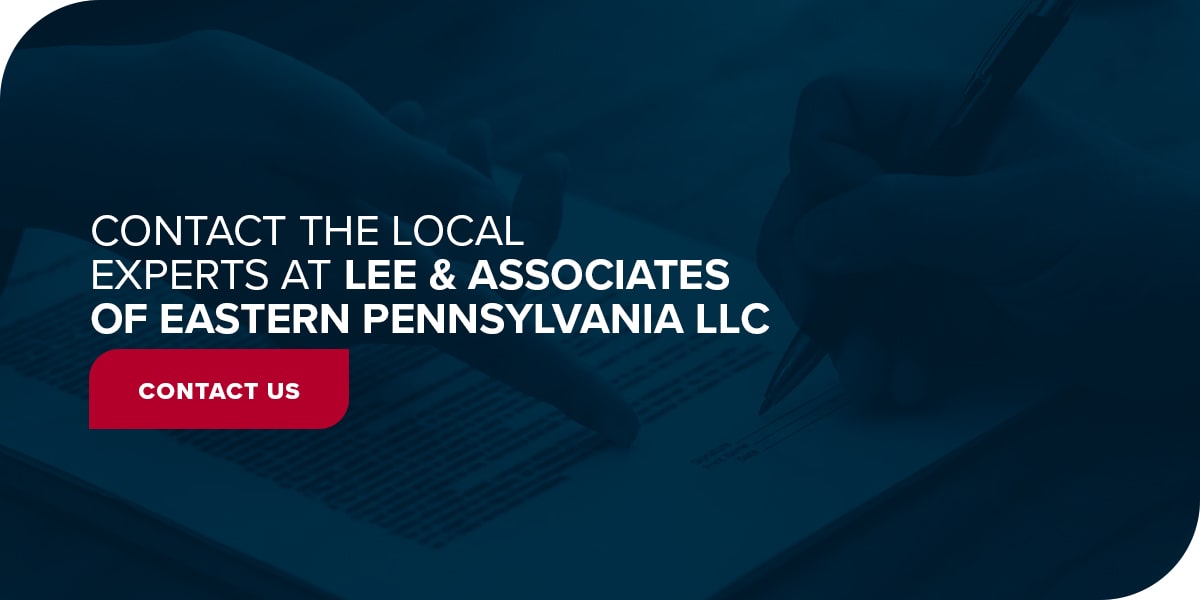 Contact the Local Experts at Lee & Associates of Eastern Pennsylvania LLC
When preparing to sign a lease, you need the best team by your side to walk you through every step of the way. Lee & Associates of Eastern Pennsylvania LLC provides a full range of commercial real estate brokerage services with a heavy focus on client outcomes. If you'd like to see a list of available properties, search our commercial property availability.
Contact us for help with every stage of your buying, selling or leasing process.
Read More About Commercial Property Leasing