Lee & Associates Miami President, Matthew Rotolante, Speaks with Globe St On The Benefits of Becoming a Lee Agent
Globe St interviews Lee & Associates leaders Jeffrey Rinkov, CEO of Lee & Associates, Matthew Rotolante, President of Lee & Associates Miami, and Brian Lynch, President of Lee & Associates New Jersey, at the Lee & Associates 2018 Brokers Summit in Las Vegas.
Lee & Associates is the largest broker-owned firm in the country and has implemented a rapid expansion plan in recent years, including the addition of Matt Rotolante's brokerage operation in the South Florida Market as announced in August earlier this year. Their unique, broker-owned partner platform has been an attractive model for new offices and agents looking for ways to increase their earning potential.
"In South Florida, we have seen great advancement in every product discipline – their Ports have become incredibly important, they have the luxury retail component that's been really important, they have big office and multifamily inventory – so Matt's office is growing and already has penetration in these markets and that has been important for us," says Rinkov.
When asked about his perspective regarding joining the firm, Matt says the culture is very refreshing and not something that is easy to repeat. "I was always looking for a very sustainable model and I think the principal model where the agents become owners in the office, the top performers, is something that makes so much sense for the new age and further growth."

Watch Video: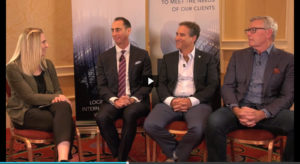 Read the full Globe St article and watch the full video here:
https://www.globest.com/2018/11/05/lee-associates-sets-up-for-more-national-growth/