Lee & Associates Ranks in Top 10 Most Powerful Brokerage Firms by Commercial Property Executive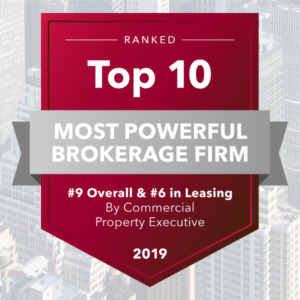 Lee & Associates was recently named #9 overall in the 2019's Most Powerful Brokerage Firms ranking by Commercial Property Executive and #6 in Leasing. Congratulations to all of our offices and brokers throughout North America, this could not have been achieved without everyone's dedication and hard work!
Balancing Growth With Risk

By Maddie Winship, Senior Research Analyst, Yardi Matrix

Despite the uncertainty that surrounds capital markets and ongoing conversations about a looming recession, commercial real estate transaction volume remained stable—respondent transaction volume increased from last year's $755 billion to $811 billion in 2018. In March, the Federal Reserve Board announced no rate hikes this year, a sharp contrast from its December projection of two 2019 upticks. This dovish approach could boost sales for the remainder of 2019, as commercial real estate continues to be an attractive capital magnet...