Lee & Associates South Florida Brokers Land Transaction for Las Vegas Developer's First South Florida Multifamily Project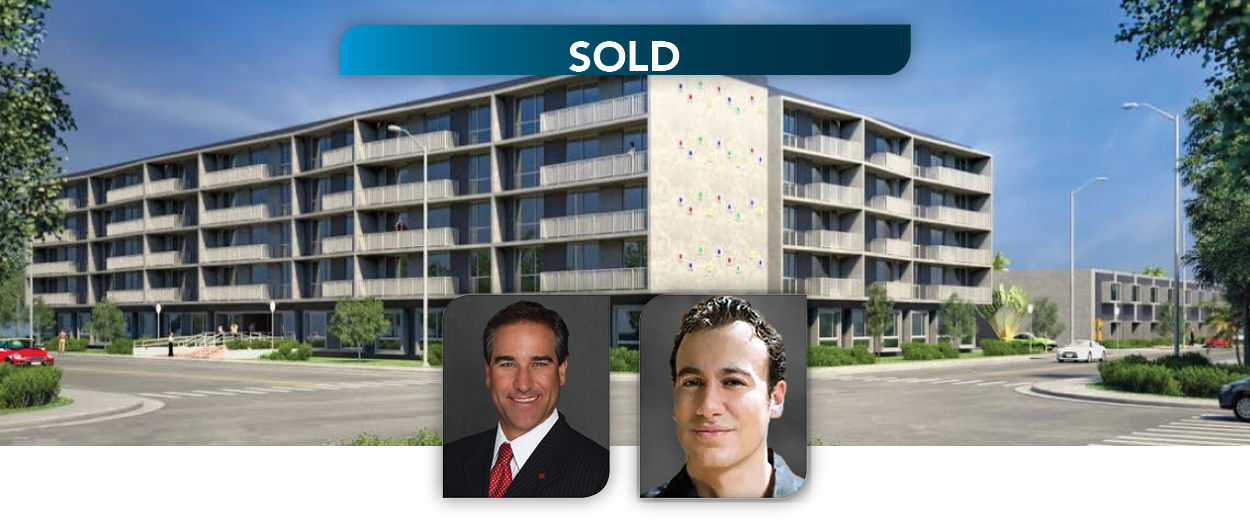 Firm President Matthew Rotolante and Principal Matthew Jacocks facilitate sale of development site to Schulman Properties
MIAMI, Florida—November 9, 2021 – Lee & Associates South Florida President Matthew Rotolante and Principal Matthew Jacocks represented both the buyer and seller in the sale of a multifamily development site near the Golden Glades Interchange in Miami-Dade County. The buyer, prominent Las Vegas-based developer Schulman Properties, will embark on its first South Florida rental project after acquiring the 4.04-acre site.
Schulman purchased the 190 NW 162nd St. site from AR190 NMB, LLP for $5.32 million. The developer plans to construct a four-building project with 62 apartments and 38 townhomes, targeting families seeking larger units and a commuter-friendly location with direct access to I-95, the Palmetto Expressway and Florida's Turnpike via the Golden Glades Interchange – ideal for commuters into Miami-Dade and Broward counties.
The property, located in the Biscayne Gardens submarket near North Miami and about 15 minutes from Sunny Isles Beach, has site plan approval for a multifamily project. Plans call for a mix of one and two-bedroom apartment units ranging from 790 to 1,095 square feet. The four-bedroom townhomes will have three bathrooms and 1,810 square feet of living space.
Nearby transit expansion projects are expected to make the new apartments and townhomes even more appealing to renters. A brand-new Golden Glades Multimodal Station constructed by the Florida Department of Transportation (FDOT) at the Golden Glades Park & Ride Center and Biscayne Gardens Connector pedestrian bridge across I-95 complement the planned Tri-Rail Coastal Link expansion and existing Brightline passenger rail system.
Rotolante also brokered the site's previous sale in 2018.
"This is a prime property that is perfectly suited to accommodate the pent-up demand for new rental product in Miami-Dade County," Rotolante said. "Matthew Jacocks' strong relationship with the buyer enabled us to bring the parties together for a seamless closing."
Jacocks has brokered several recent transactions involving Schulman this year.
In North Miami Beach, the veteran broker represented both sides in the $5.25 million sale of a parcel approved for self-storage development. Schulman purchased the 15699 W. Dixie Hwy. property and is about to start construction on a 163,660-square-foot self-storage facility with 1,081 climate-controlled units.
Jacocks and Lee & Associates' South Florida Senior Vice President Patrick Montelus also represented Schulman in the $7.25 million sale of a 48-unit multifamily portfolio in Oakland Park.
"Schulman recognizes South Florida's incredible growth and the need for high-quality residential and commercial development to support that growth," Jacocks said. "It has been exciting to help the firm establish a presence here. We continue to hear from many West Coast-based developers and investors seeking acquisition opportunities in South Florida."
About Lee & Associates | South Florida
Lee & Associates | South Florida is a full service commercial real estate brokerage firm providing the highest level of service to South Florida's diverse industrial, office, retail, multifamily, investment and land sectors. Our dedicated team of professionals is led by Matthew Rotolante, a 4th generation Miami native in a family that has owned and operated commercial property in the South Florida market since 1928. Our bilingual culture allows for open communications throughout the company, fostering collaboration and information sharing. In addition, the Lee & Associates' robust national network that sold and leased nearly $16 Billion in commercial real estate in 2019 offers clients a cross-market platform of services and expertise across all asset specialties and representation roles.
Lee & Associates is a commercial real estate brokerage, management and appraisal services firm. Established in 1979, Lee & Associates has grown its service platform to include offices in the United States and Canada. Lee & Associates provides superior market intelligence in office, industrial, retail, investment and appraisal to meet the specialized needs of our clients. For the latest news from Lee & Associates, visit lee-associates.com or follow us on Facebook, LinkedIn, Twitter and Link, our company blog.