Lee & Associates South Florida Brokers Sale of Downtown Fort Lauderdale Las Olas Retail Condominium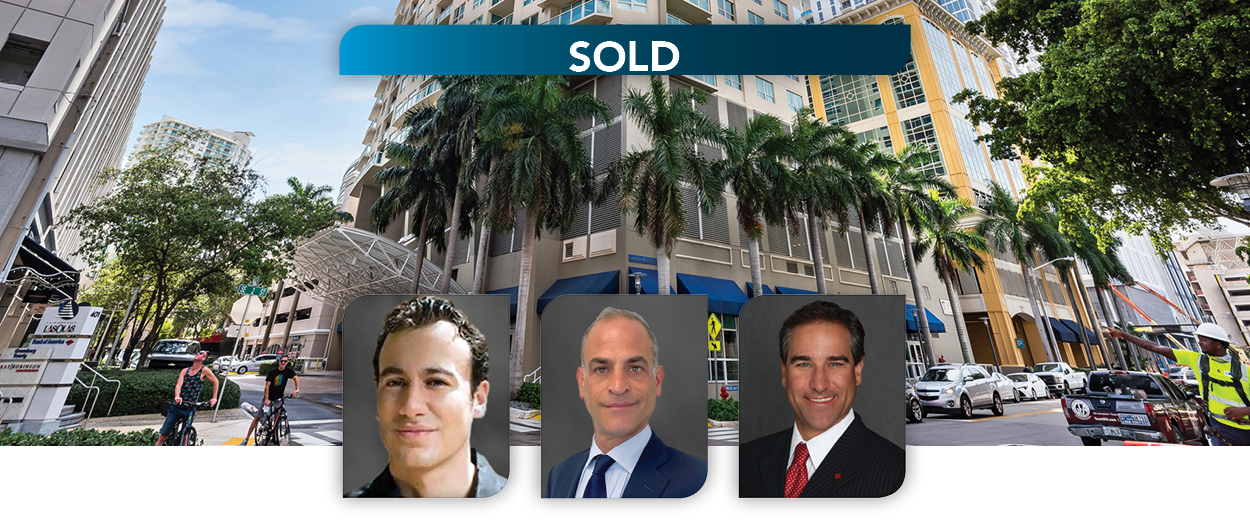 Lee & Associates Principal Matthew Jacocks, Senior Vice President Matthew Katzen and Firm President Matthew Rotolante, represent seller of prime Las Olas commercial space
FORT LAUDERDALE, FL (JULY 21, 2022) – Lee & Associates South Florida Principal Matthew Jacocks, Senior Vice President Matthew Katzen and Firm President Matthew Rotolante teamed up to broker the sale of a retail condominium on the ground floor of the 350 Las Olas Place high-rise in downtown Fort Lauderdale. The $3.6 million sale of the 7,060-square-foot unit closed on July 15.
The brokers represented seller Georgia Notes 18, LLC in listing the 350 SE Second St., Fort Lauderdale retail condo, which is subdivided into two spaces. They were able to secure a full-price offer for the unit.
Buyer 350 SE 2nd Street Partners, LLC is affiliated with Empire Social Lounge, a cigar and whiskey lounge with existing locations in Miami. The buyer plans to open its first Fort Lauderdale location in one of the two spaces at 350 Las Olas Place and lease the second space.
"We are thrilled to complete another successful transaction on behalf of an existing client," Lee & Associates South Florida President Matthew Rotolante said. "This deal underscores the strong demand for well-located commercial real estate in Fort Lauderdale's urban core. The buyer has the opportunity for a win/win scenario by expanding its business to Fort Lauderdale and leasing the remaining space."
The 350 Las Olas Place high-rise was constructed in 2005. It is surrounded by more than six million square feet of office space within walking distance to government buildings and federal courthouses. That gives operators of the building's ground-floor retail space visibility in a heavily foot-traveled area near Las Olas Boulevard in a prime location in Downtown Fort Lauderdale.
South Florida's retail sector is benefitting from rent growth and declining vacancies, according to Lee & Associates South Florida's Q2 2022 market report. Average asking rents rose year-over-year from $29.90 per square foot NNN to $33.81. The vacancy rate declined from 4.3% to 3.4% during that span.
About Lee & Associates | South Florida
Lee & Associates | South Florida is a fully vertical commercial real estate brokerage firm focused on industrial, office, retail, multifamily, investment and land sectors. Our dedicated team of professionals is led by Matthew Rotolante, CCIM, SIOR a 4th generation South Florida native in a family that has owned and operated commercial property here since 1928. Lee & Associates is the largest agent owned brokerage in the nation with Senior Agent's ability to earn profit share resulting in the highest splits while still receiving full resources, support and leads from our national network. Our collaborative and cheerful culture allows for open communications throughout the company, fostering the sharing of information and best practices to better enable client decision making.  The Lee & Associates' robust national network that sold and leased nearly $32.4 Billion in 2021 offers clients a cross-market platform of expertise and deal opportunities across all asset specialties and representation roles. For the latest news from Lee & Associates South Florida, visit leesouthflorida.com or follow us on Facebook, LinkedIn, Twitter and Instagram, our company local news.
Lee & Associates is a commercial real estate brokerage sales, leasing and management firm. Established in 1979, Lee & Associates has grown its service platform to include over 75 offices in the United States and Canada. Lee & Associates is the largest agent owned commercial real estate brokerage where agents get the greatest return for their efforts and hence are more committed and better enabled to provide superior results for their customers.  For the latest news from Lee & Associates, visit lee-associates.com or follow us on Facebook, LinkedIn, Twitter and Link, our company blog.