Miami Today Discuss Industrial Real Estate Market with Matt Rotolante, 'Industrial Real Estate in Miami is Always a Good Bet'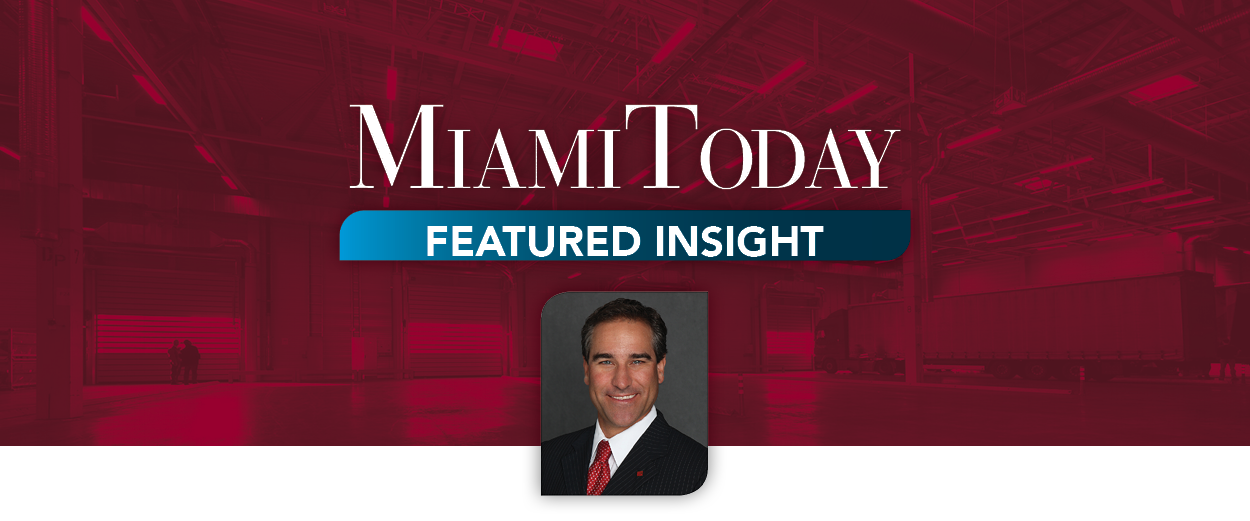 'Industrial real estate in Miami is always a good bet'
May 11th, 2023
Miami-Dade County industrial space vacancy currently sites around 2.3% as rental rates remain competitive, according to local warehouse real estate experts.
Toward the end of 2022, industrial vacancies were at 2.8% and that now has gone down to 2.3%, which could be the tightest market ever seen in the county, according to Matt Rotolante, president for Lee & Associates South Florida.
"Also, going back to that same quarter 2022, we were, at average, asking rent of around $12 per square foot triple net," he said, "and now, we've seen that increase up to closer to $15 to $40 per square foot triple net. When you have a tight market without a lot of availability, what happens is the landlords, they raise rents and get better substance."
There's a lot of what is called the industrial gross lease, or similar to a full service lease where all expenses are included in the rent, Mr. Rotolante said. "And now, we more often than not see the triple net leases or base year leases, which are more favorable towards the landlord, and that's the difference. Setting double or triple rents are causing a lot of heartburn to local tenants."
In an industrial gross rent, the tenant shares the operating expenses of the building. A tenant would have an established location for their business but won't have to assume all the responsibilities of being a property owner.
Trying to get land rezoned to industrial is more challenging because people just don't want that type of product in their backyard, he added. "That can be noisy, there can be noxious fumes, and what's happened is a lot of land, on the flip side, has gone towards residential developments or retail developments. What you're seeing is the industrial rents locally are almost consistent in some cases with some of the office and retail rents, and it's harder and harder to find industrial land overall. There's just a lack of land in South Florida because we are surrounded by the Everglades."
Due to the lack of affordable warehouse space, businesses are heading up north and opening distribution centers in areas like Fort Pierce, Stuart and even Jacksonville, he explained. "Some industrial spaces right now are going for as much as $45 per square foot for the dirt, whereas, during the recession in 2007, that same land went for $6 to $8 per square foot."
Despite the high demand and lack of supply, the industrial market is also starting to see some space come back, but it's not from a company going bankrupt or closing its doors, said Dalton Easton of the Easton Group.
"It's more a company or a Class B building moving to a Class A new construction facility somewhere else out the Northwest portion of the county," he said. "I would say in summary the market's still strong, and fundamentals are still there. Definitely, the negativity in the economy and the macro issues weigh on what we do, but the industrial real estate in Miami is always a good bet."
About Lee & Associates South Florida
Lee & Associates South Florida is a fully vertical commercial real estate brokerage firm focused on industrial, office, retail, multifamily, investment and land sectors. Our dedicated team of professionals is led by Matthew Rotolante, CCIM, SIOR a 4th generation South Florida native in a family that has owned and operated commercial property here since 1928. Lee & Associates is the largest agent owned brokerage in the nation with Senior Agent's ability to earn profit share resulting in the highest splits while still receiving full resources, support and leads from our national network. Our collaborative and cheerful culture allows for open communications throughout the company, fostering the sharing of information and best practices to better enable client decision making.  The Lee & Associates' robust national network that sold and leased over $32 Billion in 2022 offers clients a cross-market platform of expertise and deal opportunities across all asset specialties and representation roles. For the latest news from Lee & Associates South Florida, visit leesouthflorida.com or follow us on Facebook, LinkedIn, Twitter and Instagram, our company local news.
About Lee & Associates
Lee & Associates is a commercial real estate brokerage sales, leasing and management firm. Established in 1979, Lee & Associates has grown its service platform to include over 75 offices in the United States and Canada. Lee & Associates is the largest agent owned commercial real estate brokerage where agents get the greatest return for their efforts and hence are more committed and better enabled to provide superior results for their customers.  For the latest news from Lee & Associates, visit lee-associates.com or follow us on Facebook, LinkedIn, Twitter and Link, our company blog.