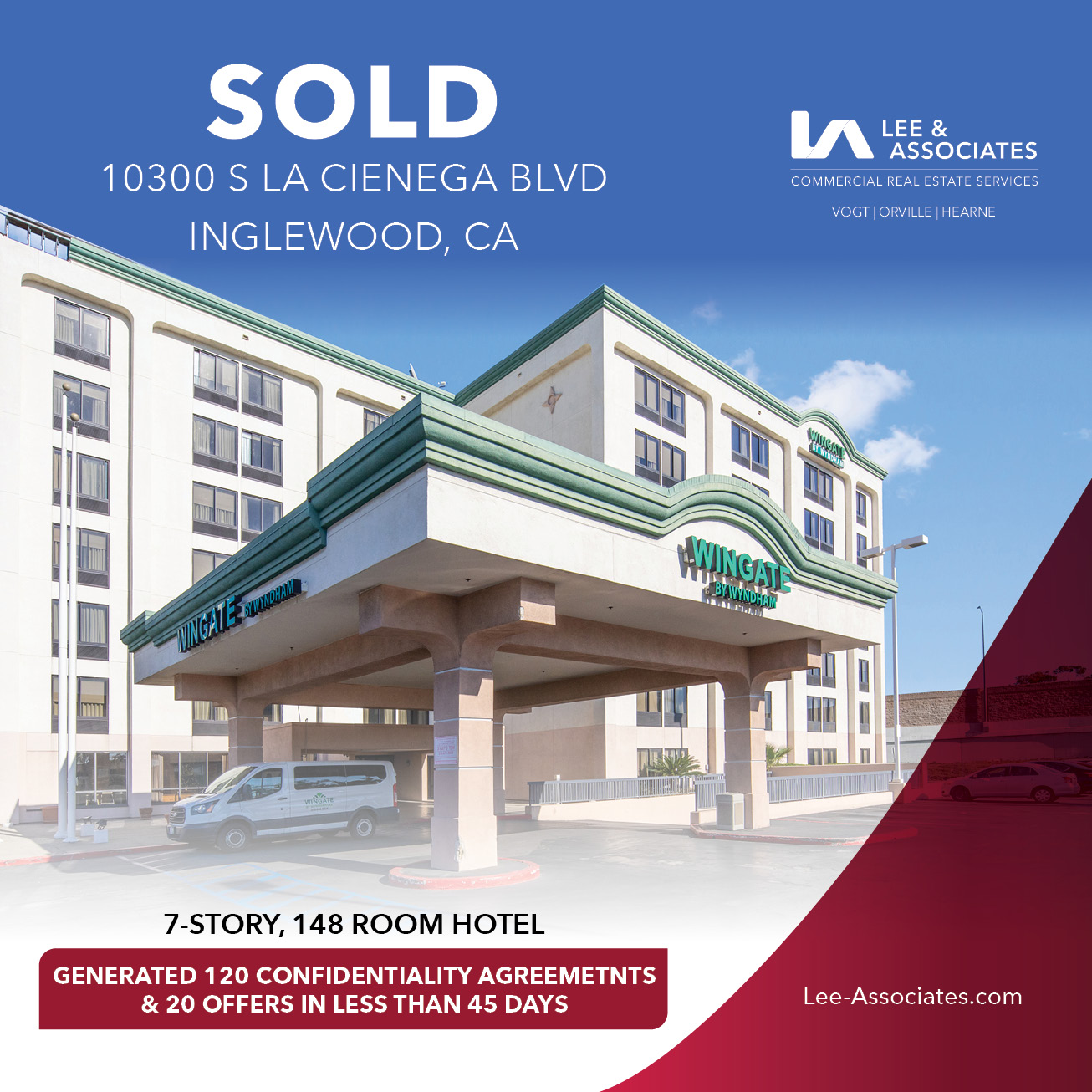 For more information, please contact:
MARSHAL J. VOGT
Principal
(714) 564-7117
BRE #01519213
Email | View Profile
Sold!!!
LOS ANGELES, CA | July 31, 2023 - The team of Matt Orville, Jamieson Hearne and Marshal Vogt of Lee & Associates negotiated the sale of the 7-story, 148-room hotel at 10300 S La Cienega Blvd, Inglewood, CA on behalf of the Seller and Buyer.  With frontage along the 405 freeway and less than 2 miles from the Los Angeles International Airport and close proximity to SoFi Stadium, 10300 S La Cienega Blvd offered an unmatched value-add opportunity to its Buyer, Greens Development.
The sale price of $23.6 million represents one of only a handful of hospitality transactions in the submarket since the recovery from the pandemic. The Lee & Associates team generated over 20 offers in less than 45 days resulting in a highly competitive pool of qualified investors on behalf of their Seller.
ABOUT THE OFFICE ADVISORY GROUP
The OFFICE ADVISORY GROUP provides expert commercial real estate brokerage and advisory services for building owners, tenants/occupants, and investors throughout Orange County, Southern California and beyond. As owners of commercial real estate property and owners of our company, we understand the decisions, trials, and tribulations our clients face. With firsthand experience, we are able to offer expert advice strategically focused on the needs of owners, and we have the authority to make decisions directly related to the assignment at hand without any corporate interference or delays. When we formed the OFFICE ADVISORY GROUP, we implemented a motto: "Persistence is everything!" What does this mean to our clients? WE NEVER GIVE UP!!! Our 3-member team is engaged with every assignment and each one of us will see every sale, investment, lease, etc. to the end.
ABOUT LEE & ASSOCIATES
Lee & Associates offers an array of real estate services tailored to meet the needs of the company's clients, including commercial real estate brokerage, integrated services, and construction services. Established in 1979, Lee & Associates is now an international firm with offices throughout the United States and Canada. Our professionals regularly collaborate to make sure they are providing their clients with the most advanced, up-to-date market technology and information. For the latest news from Lee & Associates, visit lee-associates.com or follow us on Facebook, LinkedIn, Twitter, and Link, our company blog.
###