Lee & Associates – Pasadena Sponsored 22nd Annual Pasadena Humane Golf Tournament
PASADENA, CA – April 14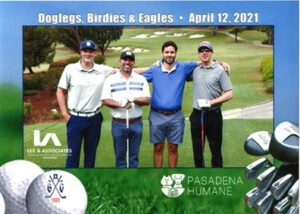 , 2021 – Lee & Associates – Pasadena sponsored this year's Pasadena Humane Doglegs, Birdies & Eagles golf tournament on April 12, 2021. John Berger, Lee & Associates – Pasadena President, serves on the Board of Directors of the Pasadena Humane and is pictured with three associates in our office, Mauricio Olaiz, Elliott Gallahan, and Trevor Gleason.
The Pasadena Humane is a donor-supported, non-profit organization that provides animal care and services for homeless and owned animals in the Greater Los Angeles Area. An open door agency, Pasadena Humane accepts all animals from our service area, regardless of age, medical condition, breed or any other criteria. Lee & Associates – Pasadena is proud to support local non-profits in our market.

###
ABOUT LEE & ASSOCIATES
Lee & Associates – Pasadena is a full service commercial real estate company headquartered in Pasadena, CA. Our client-focused brokers specialize in office, retail, tenant advisory, multifamily, and investment sales. As the fastest-growing broker-owned firm in the nation, with more than 60 office locations in North America, we are uniquely qualified to support our clients' real estate needs in the local, national and international markets. For more information, visit lee-pasadena.com.
###