Lee & Associates – Pasadena Closes Casa Del Rey Apartment Homes for $19,600,000
January 28, 2022 (San Gabriel, CA)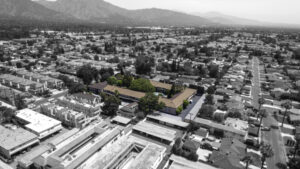 John Berger and Robert Leveen of Lee & Associates – Pasadena are proud to announce the closing of Casa Del Rey Apartment Homes for $19,600,000 with an In-Place CAP rate of 2.98%. The Class B fifty-six unit apartment property is nestled in the East San Gabriel community of Los Angeles County. Constructed in 1969, the property boasts a well-rounded unit mix with over 60% two bedroom units and an average unit size of 914 square feet. Amenities include a swimming pool, recreation room, and meticulously manicured grounds replete with a koi pond and fountain.  The property consists of ±51,226 rentable square feet and is situated on ±1.17 acres.
Casa Del Rey had been under the same family ownership for over forty years.  There were multiple offers for the property, and several offers in excess of the list price. The winning bidder not only outbid the other offers, but also went under contract with a non-contingent offer and no due diligence contingencies.  Furthermore, the Buyer released his entire earnest money deposit to the Seller.  Additionally, the Buyer's expressed commitment in continuing the legacy of stewardship for the property impressed the Seller to work with this Buyer.
"The multifamily market continues to remain extremely strong in the current economic environment, with buyers capitalizing on low interest rates and the relative safety of rental housing," explained John Berger.
Casa Del Rey is located just west of the city of Arcadia and is less than 5 minutes away from local amenities including Westfield Santa Anita mall and Los Angeles Arboretum.  The cities of San Marino and Pasadena are a short drive away. Access to I-210 is minutes away on Rosemead Boulevard, along with the Gold Line Light rail station at I-210 and Madre Street.  Residents enjoy the easy access and the privacy and peace and quiet being located on a side street provides.
Also published at:
###
ABOUT LEE & ASSOCIATES
Lee & Associates – Pasadena is a full service commercial real estate company headquartered in Pasadena, CA. Our client-focused brokers specialize in office, retail, tenant advisory, multifamily, and investment sales. As the fastest-growing broker-owned firm in the nation, with more than 60 office locations in North America, we are uniquely qualified to support our clients' real estate needs in the local, national and international markets. For more information, visit lee-pasadena.com.
###